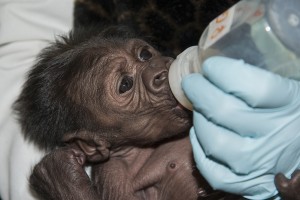 The 8-day-old gorilla at the San Diego Zoo Safari Park is showing great improvement after completing her course of treatment for pneumonia. Since she is now strong enough to breathe on her own and doesn't require supplemental oxygen, animal care staff members were able to start offering bottles with an infant formula that the baby gorilla quickly gulped down.

"For those who have been following the gorilla closely, you'll notice she's got a lot more hair and we think that she's really doing well on the (infant) formula," said Dr. Nadine Lamberski, associate director of veterinary services at the San Diego Zoo Safari Park. "She's getting a lot of calories and you can see that she changes every day. She's developing normally and very rapidly."
While the baby gorilla has shown great improvement, animal care staff is still monitoring her with around-the-clock care to keep an eye on her progress. They have noted that the baby gorilla is much stronger after completing her course of treatment for pneumonia and that her vital signs and breathing pattern are now normal.
The baby gorilla's mother, 18-year-old Imani, is recovering and doing well after the emergency C-section and is back in her familiar habitat. While Imani is eating and interacting with other members of her troop, San Diego Zoo Safari Park staff will continue to closely monitor Imani, as she is still recovering from her surgery. This is the first baby for Imani and the 17th gorilla to be born at the Safari Park. The Safari Park is home to eight gorillas, including the new baby.
CONTACT: SAN DIEGO ZOO GLOBAL PUBLIC RELATIONS, 619-685-3291
RELATED POSTS