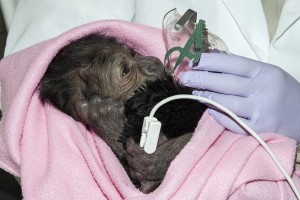 The two-day-old gorilla born by emergency C-section on Wednesday evening, March 12, 2014, had a procedure this morning at the San Diego Zoo Safari Park's Harter Veterinary Medical Center to fix a collapsed lung. Veterinary staff members had been monitoring the baby gorilla with around-the-clock care when they noticed increased respiratory distress. The baby was breathing a lot faster and her heart rate was elevated. An X-ray confirmed that the baby gorilla had a collapsed lung and had to undergo treatment.

A team of San Diego Zoo Global veterinary and animal care staff, joined by a human neonatal specialist and anesthesiologist from the UC San Diego Health System, quickly assembled for a procedure to fix the collapsed lung. After carefully intubating the baby gorilla, they suctioned out a mucus plug that was in her right lung, likely aspirated at the time of delivery. Following the procedure, the medical teams were able to re-inflate the lung. After a repeat chest X-ray, the team of veterinarians and specialists then concluded that both lungs were fully inflated and the procedure was successful. They covered the baby gorilla in blankets for warmth as she slowly woke up from the anesthesia used during the procedure. Once she was awake, the teams were able to remove the breathing tube and placed the baby on a nasal cannula with oxygen for continued respiratory support.
The baby gorilla will continue to be monitored with around-the-clock care by a team of veterinarians and animal care staff. The baby is showing progress and is breathing better on her own, but she is still receiving oxygen and supplemental fluids as needed.
"I would say that there are two things that differentiate her in how she acts compared to most babies that I take care of; first, she's a lot stronger when she grabs your hand. It's very difficult to release her grip because that's her instinct: to grab her mom," said Dawn Reeves, MD, a neonatologist with UC San Diego Health System. "Second, she can grab you with both her hands and her feet, which can be a little troublesome when trying to do procedures or exams. Otherwise she behaves very well," Reeves said.
The baby gorilla's mother, 18-year-old Imani, is recovering after the emergency C-section surgery and is back in her familiar habitat, eating and doing well. Keepers at the Safari Park will continue to closely monitor the first-time mom as she recovers from her surgery.
"If this were a human, you'd want no exercise for a few weeks after an operation like this, but within 24 hours she (Imani) was back with her troop, moving around like nothing ever happened," said Jeff Zuba, San Diego Zoo Safari Park senior veterinarian. "We're watching her closely. We're not encouraging her to move about like that, but at this point she's doing great," Zuba said.
CONTACT: SAN DIEGO ZOO GLOBAL PUBLIC RELATIONS 619-685-3291
RELATED POSTS