Zoo InternQuest is a seven-week career exploration program for San Diego County High school juniors and seniors. Students have the unique opportunity to meet professionals working for the San Diego Zoo, Safari Park, and Institute for Conservation Research, learn about their jobs, and then blog about their experience online. Follow their adventures here on the Zoo's website!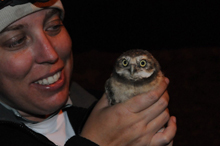 Opportunities are found everywhere in this crazy world we live in, and anyone can venture down the path to where they want to go. For Coleen Wisinski, this is the absolute truth, she has travelled the globe both nationally and internationally doing what she loves: working to make animal's lives better in the field.
Ms. Wisinski's workload concerns mostly birds, specifically burrowing owls. She works in the Applied Animal Ecology Division at the San Diego Zoo Institute for Conservation Research, which is when biologists go into the field to work indirectly with the animals in their environment. The project that she's currently working with is the "Adaptive Management Approach to Recovering Grassland Ecosystem" in San Diego County. It's a mouthful, isn't it? However wordy it is, it's still only three years old, each year containing different goals.
For the first couple of years of the project, Ms. Wisinski was focused mainly on relocating the California ground squirrels, a component the burrowing owl depends on, to grassland biomes where burrowing owl populations are found. In the third year, she got more involved with the overall ecosystem of the burrowing owl. Specifically, she observes the species in its environment and how it interacts with the other wildlife in the region. These observations were done a variety of ways; cleverly planting cameras next to active burrows, banding them for identification purposes, and taking either blood or feather samples so that their DNA may be of use in the future. All of these efforts contribute to the owls' conservation and help researchers monitor them more closely.
Relocating the ground squirrels doesn't sound very important, does it? The California ground squirrel is responsible for feeding many predators in the grassland environment, from coyotes to raptors. The ground squirrel is also valuable in another unique way. They dig out deep and complex tunnel systems, which the burrowing owls will then occupy, live in, lay their eggs, and ultimately raise their young. Ms. Wisinski's job is extremely important for the wellbeing of the burrowing owls because she is attempting to get a better idea of how people can help them live in an environment that is suffering.
Although Ms. Wisinski loves working with the burrowing owls, she didn't always know what she wanted to do. When she first started college, she got bachelor's degrees in both Biology and Spanish from the University of Wisconsin. While in school in Wisconsin, she got a glimpse into other kinds of wildlife careers she could pursue when she was involved with the Wildlife Rehabilitation program at her school. She then went on to get a Fish and Wildlife Management master's degree from Montana State University. It was there that she also was able to work in the field tracking and researching Sage-Grouse in Montana. In doing this, she discovered what she really wanted to do: field biology.
After she had completed her master's degree, Ms. Wisinski went on to do more wildlife research in Argentina, which further intensified her love of field biology. Upon returning from Argentina, she went back to Wisconsin to work with the Whooping Crane Reintroduction program. There, she monitored the migration pattern of cranes from Wisconsin to Florida and was keeping track of the signaling devices placed on them. She told us that although it was tedious and sometimes frustrating, it was fulfilling when she finally completed the project.
Ms. Wisinski told us that she loves field biology because of her sense of wanderlust. Even as a teenager, she knew she wanted a career where she would be able to travel to different places and experience different parts of the world. Throughout her career, she always found something good about the places she went, whether it was the animals or the people making a difference in their home's environment. Although she isn't involved in the more widely known about conservation projects, like the giant panda, she's very passionate about what she does and is focused intently on how she can help improve the lives of the grassland critters in San Diego.
Emily, Careers Team
Week Three, Winter Session 2014
RELATED POSTS