Zoo Intern Quest is a seven-week career exploration program for San Diego County high school juniors and seniors.  Students have the unique opportunity to meet professionals working for the San Diego Zoo, Safari Park, and Institute for Conservation Research, learn about jobs, and then blog about their experience online.  Follow their adventures here on the Zoo's website!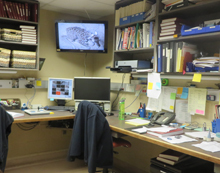 Have you ever had a lot on your plate? Well, Kristin McCaffree's plate is absolutely overflowing. Luckily, Ms. McCaffree has the experience and skill to handle her busy schedule. As a Registered Veterinary Technician, Ms. McCaffree plays a role similar to that of a nurse. She takes and tests blood samples, administers emergency medicine, takes radiographs, administers medications, monitors anesthesia during surgery, and will sometimes assist veterinarians during surgery. In the spacious Paul Harter Veterinary Medical Center right next to the San Diego Zoo Institute for Conservation Research, Ms. McCaffree helps to care for exotic animals both big and small. Doing an operation on a hyena? You can call Ms. McCaffree. An elephant is giving birth in the field? Better ring up Ms. McCafree. Need blood drawn on a hornbill? Well, you get the picture.
Ms. McCaffree also acts as a undercover agent for the residents staying at the hospital. If an animal is in quarantine, meaning that they are separated from the resident animals because they are either sick or new to the Safari Park, they are usually under surveillance. A baby giraffe, which came out of the womb septic, is currently recovering from treatment and is under surveillance in the hospital. When a baby comes out of the womb septic, it means that they have bacteria fermenting inside a part of their body, which causes the organ or tissue to become infected. Most animals do not show signs of being weak or sick in the wild, because showing sickness could get you kicked out of the herd or eaten by a predator. This is the same for animals at the Safari Park. So people like Ms. McCaffree use the cameras inside the holding areas at the hospital to monitor animals, such as the baby giraffe, without them being aware.
Ms. McCaffree has a passion for ensuring the health of the animals she cares for, but she also enjoys the excitment that her job provides. On a daily basis, it is determined which animals need to be tested, taken care of, or operated on. However, things rarely go according to plan. Ms. McCaffree's most exciting day at work included being with a gorilla that began to wake up from anesthesia a little earlier than expected. There are always new situations that arise each morning and throughout the day, whether it is an antelope giving birth, or a tiger with a toothache, the veterinarians and vet technicians are always on call.
Ms. McCaffree treats a great variety of animals, and with each animal, comes new accommodations. For example, it is very easy to bring a lemur into the hospital, but what about larger animals? An animal the size of a rhino can be transported into the hospital using a belt that is built into the ceiling. This belt looks like something out of a car factory and has a sling suspended from it, so larger animals can be transported from the operating room to the recovery room. Just imagine trying to haul a sleepy rhino through the front door without having some heavy-duty lifting equipment. What a pain in the back! Rhinos may be able to fit through the hospital doors, but for animals such as elephants, treatment is given in the field. The medical staff drive their truck, which is equipped with special medical supplies, out to the elephant to fix whatever is wrong.
How in the world did Ms. McCaffree get such an amazing job? A lot of hard work and dedication! In order to perform her daily tasks, she says, her strong background in math and chemistry have been very important. When preparing medications, it is crucial to have precise measurements. Coincidentally, her favorite subjects in high school were math and chemistry. Ms. McCaffree also took classes on animal anatomy and physiology. Her first job was being a kennel attendant. She cleaned the animal's enclosures, bathed them, and assisted with dental work, but knew that she wanted something more. She attended Mesa College in San Diego and earned an Associates of Arts degree in Animal Health Technology. While in school, she also a volunteered at the Safari Park working with the California condors. After getting her certification as a registered veterinary technician, Ms. McCaffree became more involved in medical care and scientific research of small animals. After a lot of hard work and perseverance, Ms. McCaffree was hired on at part of the animal hospital staff. Since then, she has participated in elephant studies, worked on the Hawaiian Bird Project, and contributed to many other conservation efforts.
When I asked Ms. McCaffree the one thing she loved most about her job, she didn't have one answer, she had many. She enjoys research and interacting with people inside and outside of San Diego Zoo Global. "Nothing is routine. Every day is different," she said, which is also one of the reasons she enjoys her job so much. She told me that it's great to work with a team of professionals who share the same goals. However, like any job, it does have its challenges. This job requires you to be flexible and think on your feet. "We get to do really cool stuff," said Ms. McCaffree. The thing that keeps Ms. McCaffree coming back every morning, the reason why she enjoys her job so much, is because she loves working with animals and making a significant difference in global conservation efforts.
Kalee, Careers Team
Week Two, Winter Session 2014
RELATED POSTS