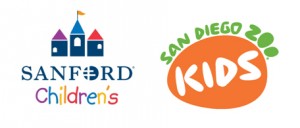 TV Channel featuring San Diego Zoo Global now available at Sanford Children's, Sanford USD Medical Center
Thanks to a new partnership, families spending time at the Sanford Children's Hospital in Sioux Falls, North Dakota, can easily take a trip to the San Diego Zoo through a new television channel. San Diego Zoo Kids, a television channel highlighting the exotic, endangered, and mystical animals of San Diego Zoo Global, was unveiled today at Sanford Children's. San Diego Zoo Kids is made possible by a gift from businessman and philanthropist Denny Sanford.

"Again, we are grateful for this gift from Mr. Sanford," said Paul Hanson, president, Sanford USD Medical Center. "This new partnership will help bring the joy of animals to our patients and their families. San Diego Zoo Kids is available in every patient and waiting room at Sanford Children's and Sanford USD Medical Center. Offering quality care for our patients isn't only about what our medical staff and healthcare professionals can do, it's also about the experience the patients have while here. Adding this channel is improving that experience, especially for some of our youngest patients."
The programming features a variety of animals from San Diego Zoo Global, plus footage from the Zoo's popular Panda Cam, fun and educational pieces about a variety of animals, and up-close video encounters of popular animals with the Zoo's national spokesperson, Rick Schwartz.
"We have always believed in the importance of putting people in touch with animals as a way to conserve species. What we have heard from medical care professionals is that animal interaction and animal stories can also help promote well-being," said Doug Myers, president and CEO of San Diego Zoo Global.
Patients and families at Sanford Children's and Sanford USD Medical Center have enjoyed zoo-based programming since 2009 through a partnership with the Great Plains Zoo and Delbridge Museum of Natural History in Sioux Falls. San Diego Zoo Kids complements the 15 live cameras from across the Great Plains Zoo, providing patients a real-time look at the giraffes, rhinos, tigers, monkeys, and more.
"Both of these channels can provide a break from reality for these families," said Dr. Joseph Segeleon, chief medical officer at Sanford Children's Hospital. "A hospital stay can be stressful, and the animal-based programming can be a welcome distraction."
The exclusive San Diego Zoo Kids channel will eventually be available at five children's hospitals across the nation.
Contact: Shawn Neisteadt, Sanford Media Strategist, Sioux Falls Region, 605-328-7053, shawn.neisteadt@sanfordhealth.org
Contact: San Diego Zoo Global Public Relations, 619-685-3291
RELATED POSTS