Zoo InternQuest is a seven-week career exploration program for San Diego County high school juniors and seniors. Students have the unique opportunity to meet professionals working for the San Diego Zoo, Safari Park, and Institute for Conservation Research, learn about their jobs and then blog about their experience online. Follow their adventures here on the Zoo's Website!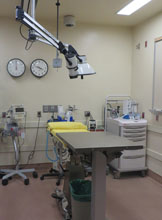 Imagine you are not feeling your best. Who are the people you seek out to take care of you? People that care and who are experts in their field of course! Well, located just next to San Diego Zoo Safari Park, is the state-of-the-art Harter Veterinary Medical Center where Kristrin McCaffree, Registered Veterinary Technician, works to help take care of a world famous animal collection. Interns got a very special tour of the facility and got the chance to ask Ms. McCaffree about what it is like working for such an amazing place.
Ms. McCaffree has been working for the hospital for over twenty years. Registered veterinary technicians are like nurses for animals. Just a few of Ms. McCaffree duties include taking blood, radiographs, diluting compounds medications, assisting veterinarians during surgery, and retrieving and returning animals to and from their exhibits. Anyone can see that Ms. McCaffree loves her job. She passionately talks about her role at the hospital and how she thoroughly enjoys being part of the team. She loves that each day is different and that she gets to help animals feel their best.
The hospital is a lot like a home, with many different rooms that serve many different functions. One of the rooms was a conference room where agendas and patients for the day are discussed. Other rooms were for operations on the animals. The rooms were pretty spacious except for the operating tables and posters covering the walls. There also was a room with a refrigerator stacked with food and space to prepare the meals for the animals, just like a kitchen. In a house, bedrooms are different from the living room, and the living room is different from the kitchen. Each room is a different size and shape because each room is designed for a specific purpose.
Many of us have first aid kits at home or even at work. I've even seen little mini first aid kits sold at stores! The hospital staff has a similar concept called "vet packs." These packs are special trucks loaded with a huge variety of medical supplies like oxygen tanks, hoof trimming gear, syringes, needles, medicine, and surgical equipment to name a few. So if something should happen to an animal while in their exhibit out in the field at the Safari Park, the hospital staff can go to the animal rather than bringing the animal in. If it's not possible to assist the animal out in the field, then arrangements are made to transport the animal to the hospital.
Each exam room and all of the recovery areas at the hospital have a camera in them so the hospital staff can watch what each animal is doing without going into their living quarters. If I were breaking my mom's rules, I would disguise my behavior and stop if she came into the room to prevent her from suspecting that I was doing something wrong. The animals at the hospital will do the same if a staff member comes into their room. They will not show their symptoms of being injured or sick, and will not eat. These reactions seem to be on an instinctual level. If an animal was in the wild and felt sick or was injured, it would disguise its symptoms so predators wouldn't be able to tell something was wrong. However, this makes it difficult to observe how the animal is recovering while in the hospital, which is why the cameras are so important.
Harter Veterinary Medical Center has custom operating equipment and advanced technology to help the animal patients recover quickly and feel comfortable. Houses are the same way; they are designed to make us feel relaxed and happy. The medical experts like Ms. McCaffree do all they can to help animals at the San Diego Zoo Safari Park feel their best, and feel at home.
Tori, Real World
Week Two, Winter Session 2014
RELATED POSTS