Zoo InternQuest is a seven-week career exploration program for San Diego County high school juniors and seniors. Students have the unique opportunity to meet professionals working for the San Diego Zoo, Safari Park, and Institute for Conservation Research, learn about their job and then blog about their experience online. Follow their adventures here on the Zoo's website!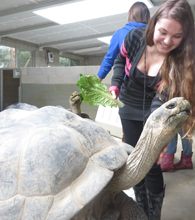 Time is something I never have enough of. Though I am heading off to college soon, I remember playing with dolls like it was yesterday. But do you know what species has a lot of time? Galápagos tortoises. At the Zoo, I had an amazing opportunity to meet several Galápagos tortoises and feed them some of their favorite food: romaine lettuce. One of the tortoises, Speedy, is thought to be around one hundred and fifty years old!
Peter Gilson, an Educator Guide and Reptile Keeper for the San Diego Zoo, hosted our learning adventure for the afternoon. Mr. Gilson has worked at the San Diego Zoo for seven years, and worked in the Zoo's education department for five of those years. He is a graduate from Point Loma Nazarene University, with a bachelor's degree in Environmental Science and a minor in Communications. He was employed at the Zoo consistently throughout college in a variety of internships.
Mr. Gilson came to the Zoo looking to work with reptiles as a Zoo Keeper, but found he preferred the educational component of the job. Keepers must be involved in every aspect of an animal's life, which can be monotonous for some. One of his favorite things about his job is doing keeper talks, where he gets to educate Zoo visitors about reptiles and amphibians. He says that reptiles are "misunderstood and under-appreciated," and by teaching the public about these critters, he can share a whole new perspective on them. He also notes that although getting up at seven in the morning at times is vexatious, he relishes the fact that there is no typical day at work, and that every day is a new experience.
Along with allowing us to have a hands-on experience with the Galápagos tortoises, Mr. Gilson also brought us to what seemed like a mini turtle nursery. One of the babies he showed us was a very unique: the Roti Island snake-necked turtle. The tiny turtle had a neck that was so long, it could not tuck in its neck properly like most turtle species. It had to tuck it in sideways! It is one of the rarest turtles in the world, as well as one of the most endangered. Seeing the turtle was a bittersweet experience. The Roti-Island snake-necked turtle is actually critically endangered because of the pet trade. While Mr. Gilson was talking about how awesome these creatures are, he also reminded us just how endangered they are. Even in our local community, species are endangered because of the release of unwanted (non-native) pets. For example, a common pet turtle species is a red-eared slider turtle. Many times, pet owners decide that these turtles are too much to handle, and release them to a local pond in order to get rid of them. These turtles are a highly invasive species, which take over the habitats of other native turtles. As a result, the native turtles vanish. That is exactly why Mr. Gilson's job is crucial. He makes Zoo visitors aware of why these reptiles and amphibians are endangered. By doing so, visitors can take the initiative to make others aware, and make sure they are not contributing to the problem.
If you enjoy sharing your knowledge of animals to others as well as interacting with the animals themselves, then perhaps becoming an educator guide is the career for you. Volunteer consistently at your local zoo and always keep learning about the animals you love, and perhaps you could be on your way to a rewarding profession just like Mr. Gilson.
Samantha, Careers Team
Week One, Winter Session 2014
RELATED POSTS