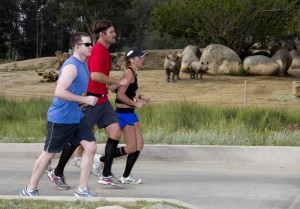 San Diego Zoo Safari Park Hosts Half Marathon and 10K Run Presented by Health Net

One of the wildest half marathons on the racing circuit will be held at the San Diego Zoo Safari Park on Sunday, May 4, 2014. The Safari Park Half Marathon, now in its fourth year, offers runners the chance to race through the scenic San Pasqual Valley past vineyards, golf courses and orange groves and finish the race inside the Safari Park with giraffes, cheetahs, rhinos and flamingos nearby. This year's race has been expanded and a 10K run has been added.

Proceeds from the Safari Park Half Marathon and 10K Run, presented by Health Net, benefit cheetah care at the Safari Park as well as San Diego Zoo Global's Wildlife Conservancy's worldwide conservation efforts to help save cheetahs and other endangered species in the wild.
The competitive half marathon and 10K run starts at 6:15 a.m. in the parking lot of the Westfield North County Mall, just off the I-15. The half-marathon course has a time limit of three hours and the 10K will have a limit of 90 minutes. Each race registration includes admission to the Safari Park on the day of the race, a high-quality tech T-shirt and a finisher's medal. Awards will be given to the top three overall finishers and the top three finishers in each division for the half marathon and 10K.
To make the race even more fun, runners have the opportunity to be Wildlife Champion. Those who raise $500 or more will earn a free race entry and VIP status that comes with an array of benefits including expedited registration and check-in, snacks and beverages, VIP cabana, upgraded restrooms, post-race massages, an exclusive medal and shirt. The charity runner who raises the most funds (at least $2,500 to qualify) can earn the opportunity to name the next cheetah cub born at the San Diego Zoo Safari Park.
The Safari Park will open at 6 a.m. on race day for spectators only. Spectator entry to the Safari Park is discounted to $30 per person and includes shuttle service from the mall to the Park between 5:45 and 6:10 a.m., special activities in the Park while they wait for friends and family running the race, and full-day admission to the Safari Park on race day. Shuttles will be available to return racers and spectators to the mall, running continuously from 9 a.m. to noon, and every half hour from 12:30 to 5:30 p.m. On race day, all roads to the Safari Park will be closed from 5:30 to 9 a.m.
For more information and secure registration for the Safari Park Half Marathon and 10K Run, finish line festival and the post-run breakfast, visit www.safariparkhalf.com
CONTACT:  SAN DIEGO ZOO GLOBAL PUBLIC RELATIONS at 619-685-3291
RELATED POSTS