Zoo Intern Quest is a seven-week career exploration program for San Diego County high school juniors and seniors.  Students have the unique opportunity to meet professionals working for the San Diego Zoo, Safari Park, and Institute for Conservation Research, learn about jobs, and then blog about their experience online.  Follow their adventures here on the Zoo's website!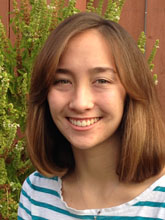 Are you ready for an adventure?
Hello, my name is Kalee and I can't wait to share my awesome adventures with you as I embark on the journey that is Zoo InternQuest!
I think it is very important to mention that Steve Irwin and my mother sparked my interest in nature and wildlife. When Steve passed away, I realized that I wanted to have just as much of an impact on the world as he did, if not more. I want to help preserve our Earth and its wildlife for future generations to enjoy. I am very passionate about conservation and I try to live a healthy, sustainable lifestyle. I have tried to encourage others to do the same through Zoo Corps, a teen volunteer program at the San Diego Zoo. In Zoo Corps, I talked to Zoo guests about wildlife conservation in an effort to help protect endangered species and the environment.
However, as all good things do, Zoo Corps came to an end once I passed the age limit. I was very sad to say goodbye to everyone and leave the Zoo… but I soon discovered I didn't have to! That is where Zoo InternQuest comes into play. Having just finished my college applications (phew!), I found myself reflecting on my goals in life, mostly because that is what every writing prompt asks about. One of my goals is to promote a sustainable world and find a career that I truly love. What better way to follow my passions and interests than to join Zoo InternQuest, where I can study the many careers available at the San Diego Zoo, San Diego Zoo Safari Park, and the San Diego Zoo Institute for Conservation Research?
Other than pursuing my passion for wildlife conservation, I enjoy playing tennis, reading a good book, swimming, boogie boarding, drawing, painting, and writing stories. I also enjoy playing the piano and singing. I love the ocean, the salty sea breeze, and the sand between my toes. As any typical teenager, I like to relax with my friends and watch movies. Did I mention food? I love good food. Doesn't everyone?
I am extremely excited to participate in Zoo InternQuest and cannot wait to share my experiences with you! Make sure to follow the adventure on my blog. Stay tuned for some engaging stories and fantastic pictures!
Kalee
Winter Session 2014
RELATED POSTS