Zoo InternQuest is a seven-week career exploration program for San Diego County high school juniors and seniors. Students have the unique opportunity to meet professionals working for the San Diego Zoo, Safari Park, and Institute for Conservation Research, learn about their jobs and then blog about their experience online. Follow their adventures here on the Zoo's Website!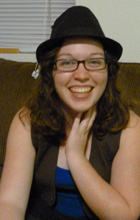 Hi, my name is Sabrina, and I've always been a scientist.  When the other kids in grade school were racing home to watch Spongebob Squarepants or Pokemon, I was in a hurry for Magic School Bus or Crocodile Hunter. My devotion has only grown stronger since then. My mother began homeschooling me at 4th grade, partly because she knows that I learn better when I have free time to do my own research, so I have a lot of free time to pursue my own projects. She's also bought me college biology textbooks to read and we've taken field trips to the beach, museums, and of course the Zoo to round out my education. The result of all this science is a Sabrina with a lot of book knowledge and not much experience. So I'm at the Zoo to learn about jobs in the field I love and meet people with similar interests. Oh, and hang out with the animals, of course!
I do have interests beyond science, though. Reading manga, sleeping, and writing terrible poetry are among my incredibly exciting hobbies. My golden retriever, Kuma, inspired the only good poem I ever wrote, which is kind of sad. I have an irrational love of mechanical pencils and webcomics, and the love of my life is my Smartphone. Among my family members are two loving parents, two nerdy brothers, and way too many aunts. Actually, I don't have very many aunts at all, but I do have scores of books held hostage from their home in the library.
If I lived in the Zoo, I would be a tufted capuchin.
Speaking of the Zoo, I really look forward to telling you all about our InternQuest adventures. I hope that you'll enjoy reading about them as much as we enjoy having them!
Sabrina
Winter Session 2013
RELATED POSTS