Zoo InternQuest is a seven-week career exploration program for San Diego County high school juniors and seniors. Students have the unique opportunity to meet professionals working for the San Diego Zoo, Safari Park, and Institute for Conservation Research, learn about their jobs and then blog about their experience online. Follow their adventures here on the Zoo's website!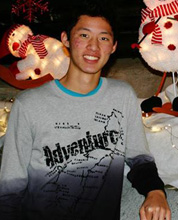 Welcome! I'm Eric and I'm currently a junior in high school ready to pursue a career in a biology or zoology field, yet still unsure where to begin. Aside from school, my hobbies include running, taking pictures, and playing ping pong with my family.
As a young kid, I discovered an interest in nature and animal life through my outdoor adventures and sporty hobbies. Hiking through my local canyon as a kid, I enjoyed jumping and running around the trail, smelling the fresh air and observing the animals that would venture nearby. This spike of curiosity resulted in me joining various volunteer programs and activities that focused on helping people and animals in my neighboring communities.
As the years moved on, freshman year allowed me to take AP Biology which expanded my knowledge of biology and environmental science. I joined Zoo Corps, a teen volunteer program that aimed at teaching the public about wildlife conservation, animal diets and enrichment, and endangered species. This allowed me to work on my public speaking skills and granted me opportunities such as meeting animal trainers and Zoo employees. My initial passion for preserving nature was sparked through my photography class, where I discovered a joy in landscape photography by exploring many of the unique parks and beautiful beaches in San Diego.
New experience, new opportunities, and adventure are what I thrive for as I continue to enjoy my youth. Whether it's skiing for the first time in Vancouver or visiting a new restaurant, I'm always open for the chance to try it. Zoo InternQuest program will ultimately give me that chance to learn and witness future careers within the fields of biology, zoology and wildlife conversation that could spark my interests and help me towards a meaningful career. I hope that my experience in this program can be reflected through my personal blogs and unique pictures, so that you may share this adventure alongside me.
Eric
Winter Session 2014
RELATED POSTS