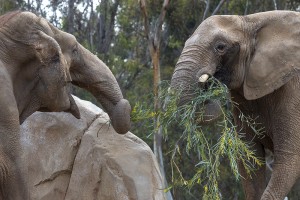 Mila, the African elephant from a zoo in New Zealand, was paired with Asian elephant Mary this morning, Feb. 18, 2014, at the San Diego Zoo's Conrad Prebys Elephant Care Center. Animal care staff has been slowly introducing the two elephants, letting them smell each other and touch trunks through a protective barrier, but this was the first time that Mila and Mary have been in the same yard together.

Keepers first let Mila out into one of the elephant yards and let her explore and feed on some Bermuda hay before letting elephant Mary out into the same yard. Mary walked over to Mila and they snacked on some hay from the same tree feeder. Mary smelled the new elephant and rubbed her face and trunk on Mila's body. The interactions were positive and keepers will continue to let the two elephants be together and get to know each other before they begin introductions with other members of the herd.
"Mary walked up to Mila and they both started eating from the same tree," said Ron Ringer, lead keeper at the San Diego Zoo. "This is a great behavior to see because they were both calm and accepting of each other and it's one of the types of things we look for with animal introductions."
Mila, 41, arrived in San Diego on Thursday, Nov. 14, 2013, through collaboration with the Franklin Zoo Charitable Trust. She had been living at the Franklin Zoo since 2009, where she had been cared for and trained under a system of positive reinforcement. San Diego Zoo Global was a pioneer in the development of this training system for managing elephants.
CONTACT: SAN DIEGO ZOO GLOBAL PUBLIC RELATIONS at 619-685-3291
RELATED POSTS