Zoo Intern Quest is a seven-week career exploration program for San Diego County high school juniors and seniors.  Students have the unique opportunity to meet professionals working for the San Diego Zoo, Safari Park, and Institute for Conservation Research, learn about jobs, and then blog about their experience online.  Follow their adventures here on the Zoo's website!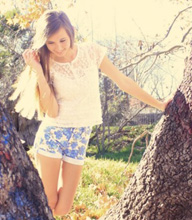 My parents took me on my first trip to the San Diego Zoo when I was just six years old, and I've been hooked ever since. Since a very young age, I have had a love for animals, and the outdoors. Animals have always been a huge part of my life, but it wasn't until my freshman year that I was inspired to include animals in my future career. The person that has inspired me the most to pursue a career in biology was a teacher during my ninth grade teacher. He taught me that biology isn't just found in a classroom; it's all around us. I love learning about and studying all forms of life, and hope to work in the biological or animal science field.
Now a senior, I juggle school, work, volunteering, reading, modeling, spending time with my friends and family, and planning my future. It seems as though I would never have time to sleep, but I enjoy being busy. I think it's best to take advantage of your days, and not let them go to waste.
On Saturdays, I volunteer at a nonprofit organization that helps with conservation and education. I take care of some of the animals there. The animals are some of my best friends, and I enjoy every second I spend with them. My passion for animals and science led me to find Zoo InternQuest, and I am very excited to be a part of it.  I hope you will follow me on this incredible adventure!
Tori
Winter Session 2014
RELATED POSTS