Zoo InternQuest is a seven-week career exploration program for San Diego County high school juniors and seniors. Students have the unique opportunity to meet professionals working for the San Diego Zoo, Safari Park, and Institute for Conservation Research, learn about their job and then blog about their experience online. Follow their adventures here on the Zoo's website!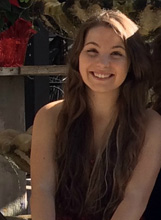 Hello there, reader. My name is Samantha. I am a graphic designer (by hobby and by occupation) and my interests and hobbies are very sporadic. Being very artsy, I have been practicing graphic design since I was in middle school, and landed a job as early as freshman year of high school. I have been studying vocal performance since my freshman year, and I had even taken an interest in teaching myself Korean my junior year. I am an officer of every single club I am enrolled in. Some of these clubs include: Asian Culture Immersion Club, a club dedicated to teaching about the culture and traditions of Asian countries, Disney Magic Club, an organization where we watch Disney movies and raise funds for children's charities, and The Water Project, a club where we create multiple events to raise money to provide clean water to Africans. I am also currently juggling eight classes this year.
It is very hard to pinpoint a career I would like in the future, since I am interested in so many fields. However I am close to graduating, and it's time for me to get serious about planning for my future. If there is one thing I learned throughout my life, it is that if I don't love it, I don't do it. So, what career would make me so happy, I would actually wake up in the morning excited to go to work? To figure this out, I had to think about my past.
Growing up, I always said that I wanted to become a veterinarian. I was knowledgeable about various species of animals, and being around my pets soothed me without fail. Being older now, I know that I probably would not be able to handle becoming a veterinarian, due to the extensive education as well as having to put some animals down. But that does not mean I do not want a career working with animals.
Perhaps my curiosity and passion for animals means working at a zoo is my calling. I am excited and eager to see what direction Zoo InternQuest will take me, and I look forward to getting an inside look to the lives of Zoo personnel.
Samantha
Winter Session 2014
RELATED POSTS