Zoo InternQuest is a seven-week career exploration program for San Diego County high school juniors and seniors. Students have the unique opportunity to meet professionals working for the San Diego Zoo, Safari Park, and Institute for Conservation Research, learn about their jobs and then blog about their experience online. Follow their adventures here on the Zoo's Website!
My name is Elizabeth, but nearly everyone I have ever met calls me Libby.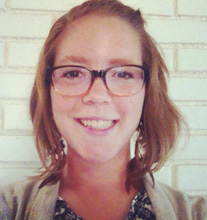 During the week, I often find myself caught up in a whirlwind of homework. But, when I can spare a moment or two, I prefer to climb into the imaginary worlds my plethora of beloved books hold between their pages. On weekends, I spend my time outdoors gallivanting on horseback or volunteering at a therapeutic riding center.
My mother's friend took me to my first horse show when I was three, sparking my passion for animals. Ever since then, I have felt inclined to help any animal I come across and learn as much information about them as I can possibly stuff into my brain. When other kids were watching Barney, I would get up especially early to watch Zoboomafoo and learn about the newest critter to visit Animal Junction. As I got older I graduated to the more sophisticated programming of Animal Planet, earning my title as the family's "Animal Guru." However, I was still hungry for more new information. When my mother finally agreed to subscribe to ZooBooks, I was off-the-walls ecstatic. I hoarded my magazines, hiding them from my brothers so that I could soak up their knowledge in peace.
From a young age, I have known that I wanted to be a veterinarian. There is nothing I like better than helping animals. Now that I am a senior in high school, I have reached a sort of crossroads. I am not entirely sure what sort of animals I want to be working with, though I have decided the path of companion animals — dogs, cats, and other small pets — is not for me. I am very fortunate to have the opportunity to be a part of the San Diego Zoo InternQuest program. I am sure that in the next seven weeks I will meet a wide array of amazing people who will open up new animal careers to me that I have never known about before.
Be sure to stay tuned for what promises to make for an exciting seven-week adventure!
Libby
Winter Session 2014
RELATED POSTS