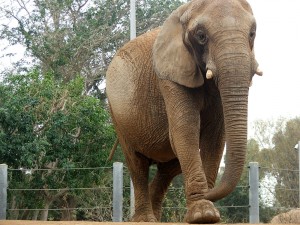 Mila, the African elephant from a zoo in New Zealand, has been receiving a lot of attention from the other elephants at the San Diego Zoo in the past couple of weeks. Animal care staff have been slowly introducing the new elephant to one of the female elephants in the herd at the Zoo's Prebys Elephant Care and the interaction has been largely positive.

"We have started the introduction process with our dominant cow, an Asian elephant named Mary," said Robbie Clark, a keeper at the San Diego Zoo. "At first, Mila was very unsure of the interaction, but now we are seeing a lot of trust as both elephants use their trunks to reach through the barriers and get to know each other."
Mila, 41, arrived in San Diego on Thursday, Nov. 14, 2013, through collaboration with the Franklin Zoo Charitable Trust. She had been living at the Franklin Zoo since 2009, where she had been cared for and trained under a system of positive reinforcement. San Diego Zoo Global was a pioneer in the development of this training system for managing elephants.
CONTACT: SAN DIEGO ZOO GLOBAL PUBLIC RELATIONS at 619-685-3291
RELATED POSTS