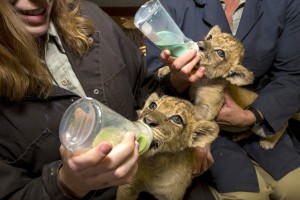 Two 6½-week-old African lion cubs gulp down their lunch of kitten formula during a bottle-feeding earlier today at the San Diego Zoo Safari Park. The adorable felines are fed and burped by keepers every 3½ hours and have recently been introduced to soft kitten food with pieces of meat. As the cubs continue to grow, keepers will decrease their feeding times and eventually wean them from the bottle around 12 weeks of age.

Although eating and sleeping remain the precocious felines' favorite pastimes, they are becoming more agile, playing with toys, pouncing and climbing in their playpen, and even spending some time in the sun each day.
Visitors to the Safari Park can see the cubs in the animal care center from 9 a.m. to 4:30 p.m. daily but should be aware that, like adult lions, the cubs average about 20 hours of sleep per day.
CONTACT: SAN DIEGO ZOO GLOBALPUBLIC RELATIONS at 619-685-3291
RELATED POSTS