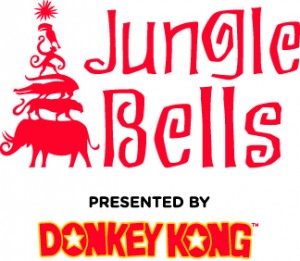 The San Diego Zoo's annual wintery celebration is bringing some new holiday cheer. Jungle Bells presented by Donkey Kong is a three-week event running from Dec. 14 through Jan. 5 when the Zoo is open from 9 a.m. to 8 p.m., with most of the activities happening between 4 and 8 p.m. During Jungle Bells, guests can experience many activities, from all-new, holiday-themed animal experiences to holiday-themed entertainment and a nightly tree lighting ceremony.

This year's event has many new experiences such as an evening animal show, "Carols at Camp Critters," taking place at Wegeforth Bowl every night at 6:30. Guests can see some special critters raise their voices to howl and hoot, creating a song for the holidays. This show includes a variety of animals, including a cheetah, a New Guinea singing dog and a California sea lion.
Other new experiences include "Light Up the Night," a custom music and light show happening every evening on the iconic holiday tree in the Zoo's front plaza. Guests can stop by Santa's igloo for a visit and a souvenir photo. Other shows include the "Toy Shop Hop," where Santa's elves flip and flop around a workshop to some bouncy musical songs.
While guests typically visit the Zoo during the day to see their favorite animals, Jungle Bells offers the opportunity to see animals throughout the evening as well. A daily animal presentation will take place in the Australian Outback classroom and other opportunities to see animals up close include a rhino and wolf keeper talks.
Guests can warm up with seasonal holiday treats including cookies, hot chocolate, coffee with liqueur, s'mores, fried apple and cherry pies and specialty soups. Happy Holidays Happen daily at Albert's Restaurant from 3 to 5 p.m., where guests can enjoy some additional holiday treats.
Presenting sponsor, Donkey Kong, will be at the Zoo each weekend in December giving Zoo guests a chance to play the new Donkey Kong Country Tropical Freeze game before it launches in 2014. The Donkey Kong costume character will also be on hand for photo opportunities.
The Zoo is running a special Instagram contest; guests can take photos or videos of themselves or their children enjoying the holiday cheer and post them on Instagram with the tag #junglebells; a prize will be given out for the best Jungle Bells photos. Visit www.sandiegozoo.orgfor more information about the contest or any Jungle Bells activities.
The San Diego Zoo Global Wildlife Conservancy is dedicated to bringing endangered species back from the brink of extinction. The Conservancy makes possible the wildlife conservation efforts (representing both plants and animals) of the San Diego Zoo, San Diego Zoo Safari Park, San Diego Zoo Institute for Conservation Research, and international field programs in more than 35 countries. The important conservation and science work of these entities is supported in part by The Foundation of the Zoological Society of San Diego.
CONTACT: SAN DIEGO ZOO GLOBAL PUBLIC RELATIONS at 619-685-3291
RELATED POSTS