Zoo InternQuest is a seven-week career exploration program for San Diego County high school juniors and seniors. Students have the unique opportunity to meet professionals working for the San Diego Zoo, Safari Park, and Institute for Conservation Research, learn about their jobs and then blog about their experience online. Follow their adventures here on the Zoo's Website!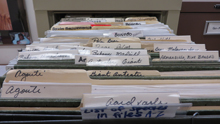 When people talk about nurseries, they are generally referring to the room for their new baby or a store that sells plants. Most people don't instantly think of the Neonatal Assisted Care Unit (NACU) at the San Diego Zoo which helps care for baby mammals whose mothers could not raise them on their own. Reasons for this include the death of the mother, an infant animal's injury or infection, or in the case that the mother has an insufficient milk supply. The interns were given the tremendous opportunity to meet one of the NACU's Senior Keepers, Ms. Becky Kier, and found out all the wonderful things she and her fellow co-workers do in the NACU to conserve wildlife through the care of adorable baby animals.
The NACU accomplishes many different things by stepping in and caring for young animals in need, one of which is helping to expand research opportunities for endangered species. Assisting a Zoo baby not only saves one life, but also helps the species as a whole because the young are the future of the species and their survival increases the species' overall population. If more individuals of a species survive, there is more genetic diversity for mating and research regarding that species.
It often takes collaboration to best care for these very special babies. The San Diego Zoo NACU staff often assists other organizations and zoos when expertise is needed. The NACU keeps very detailed logs of their work so they can exchange information with other conservation organizations. For example, the NACU might be able to recommend the appropriate formula used to raise a certain species, the best shape of bottle nipple with which to feed a particular species, or the best way to house an animal comfortably. The San Diego Zoo's Nutritional Department creates the formula for the animals, but its implementation by the NACU staff that will help give the babies a better success rate for survival.
Ms. Keir and the NACU staff have saved many animals that were born into unstable situations. It takes quite a bit of hard work to care for all of those babies and the NACU staff does everything they can to make sure these young animals are able to be successful once they leave their care. The staff at the NACU has also shared their knowledge and experience with other animal organizations to conserve animals around the globe.
Joseph Rodriguez, Conservation Team
Week Six, Fall 2013
RELATED POSTS