Zoo InternQuest is a seven-week career exploration program for San Diego County high school juniors and seniors. Students have the unique opportunity to meet professionals working for the San Diego Zoo, Safari Park, and Institute for Conservation Research, learn about their jobs and then blog about their experience online. Follow their adventures here on the Zoo's website!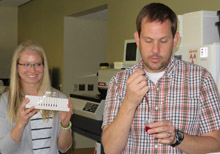 In a world full of career paths, it's easy to see how somebody could struggle to pick just one—vet or keeper, field or lab researcher. It is then, almost by accident that somebody stumbles upon the perfect job, but when they do it is evident. Dr. Chris Tubbs gets to fall in love with his work every day… and what an amazing job he has!
Dr. Tubbs is a Scientist in the Reproductive Physiology Division at the San Diego Zoo Institute for Conservation Research. He and his department work primarily with how hormones affect an animal's ability to reproduce. Dr. Tubbs told us that for him, every day is completely different from the previous or coming one, and because of this he never gets bored. One day the project could be condors and some weeks later it could be polar bears! In order to give us a better idea of what kind of research he and his colleagues might do, he presented us with a mock assay. In this lab we got to practice mixing chemicals that would reveal progesterone levels. Based on this we could make graphs that allowed us to predict pregnancy, track a fertility cycle, or diagnose fertility issues. Though ours was just a practice, Dr. Tubbs work allows keepers to monitor when to breed an animal or to know if an animal is pregnant, so they can receive the proper care for their condition.
Dr. Tubbs told us that despite liking what he did, he always stayed open to the possibility of change because he was interested to find out where his path might take him. He first attended the University of Florida, where he received his bachelor's degree in zoology. He then went on to receive his Ph.D. from the University of Texas at Austin Marine Science Institute. Before making the leap to mammals, Dr. Tubbs work closely with a project that was studying fish sperm motility.
After working with fish, Dr. Tubbs made the surprising leap to mammal research. Believe it or not, he told us that the hormones in all animals are nearly identical, which made the transition from fish to mammals easier for him. He is currently working on a project about white rhinos. This current project has been one of the most fruitful that Dr. Tubbs has been a part of and, because of that, he has devoted a significant amount of time to sticking with it. In his studies he researched progesterone levels in the rhinos using fecal, urine, blood, and saliva samples. With this information he is able to track and gain a more solid understanding of rhino reproduction and then use that knowledge to help promote reproduction of the species.
Dr. Tubbs did tell us there are definite pros to field research as well, which he also knew from personal experience. It is harder, more physical work and for Dr. Tubbs the most engaging part of conservation is the science behind it, which is largely why he decided to go into lab research. As he spoke it was obvious he wouldn't trade his job for anything in the world… and who can blame him? It's a pretty amazing profession! Even though Dr. Tubbs works alongside the keepers and their animals, he has a huge impact on their health and success and also gets to pioneer a new field of research.
Whatever your interests, Dr. Tubbs stressed that when pursuing a profession, it has to be something you love. He also asked us to consider the importance of staying open to every possibility for our careers. After all, if he hadn't been open to trying out work at the Institute and studying mammals, we might have never gotten to meet this amazing man with one incredible job.
Haley, Careers Team
Week Five, Fall Session 2013
RELATED POSTS