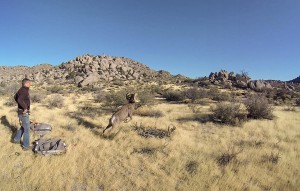 On October 31, a bi-national team of biologists and veterinarians started a two-day effort to capture over a dozen Peninsular bighorn sheep in the Sierra Juarez mountains just south of the US-Mexico border. The collaborative effort included the Universidad Autónoma de Baja California, government agencies in Mexico, The Nature Conservancy, and San Diego Zoo Global with the goal of better understanding the movement, health status and genetics of the Sierra Juarez bighorn sheep populations.

"The Peninsular bighorn sheep is an endangered species whose two major populations could be permanently separated unless we protect its habitat and key bottleneck connections throughout the Peninsular Range. Smaller, isolated populations are more susceptible to diseases and predation and are less resilient to climate change," said Bill Tippets, San Diego Project Director with The Nature Conservancy. "This effort will provide us with critical information about how to improve the survival of this species and help manage its habitat now and as the climate changes, and while meeting the realities of continued development in the region."
Bighorn sheep populations in southern California and northern Mexico have long been assumed to be isolated but recent field surveys carried out by San Diego Zoo Global and California Department of Fish and Wildlife have indicated that bighorn sheep do use the border areas and likely move between the two countries. However, to successfully move from north to south sheep would have to cross four lanes of traffic on two major highways (I-8 in San Diego and MX-2 in Baja California).
"Roads are important barriers preventing the movement of many animal species including the bighorn sheep. With our data we hope to initiate a discussion on landscape connectivity and cross-border species conservation both in the US and in Mexico," said Lisa Nordstrom, scientist with San Diego Zoo Global.
For the next two years, bighorn sheep equipped with GPS collars will provide scientists with important data on the movement of the animals in relation to habitat features such as roads, human settlements, and oases. The biological samples collected by the team will also help to describe the genetic structure and connectivity of the population and will be used to test for different diseases. The recent pneumonia epidemic among bighorn sheep in the Mojave Desert shows the importance of health studies like these to better understand disease outbreaks and interactions of wild bighorn sheep populations with domestic livestock.
"While Peninsular bighorn sheep have been intensively studied in southern California and large efforts were put into habitat conservation and population recovery programs, very little information is available on the populations in Baja California, just south of the border," said Mathias Tobler, a wildlife ecologist with San Diego Zoo Global.
The Nature Conservancy is a leading conservation organization working around the world to protect ecologically important lands and waters for nature and people. The Conservancy and its more than 1 million members have protected nearly 120 million acres worldwide. Visit The Nature Conservancy on the Web at www.nature.org.
CONTACT: PUBLIC RELATIONS, SAN DIEGO ZOO GLOBAL, 619-685-3291
RELATED POSTS