Zoo InternQuest is a seven-week career exploration program for San Diego County high school juniors and seniors. Students have the unique opportunity to meet professionals working for the San Diego Zoo, Safari Park, and Institute for Conservation Research, learn about their job and then blog about their experience online. Follow their adventures here on the Zoo's website!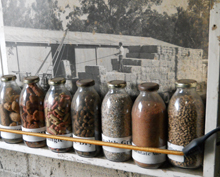 Stepping into a large refrigerator at the San Diego Zoo was like entering the produce section at Costco. Dr. Jen Parsons, an Associate Nutritionist, gave us a behind-the-scenes tour of the various locations where food is stored and prepared for all of the animals at the Zoo. The Nutritional Services Department is responsible for creating the menu for over 800 species, including 7,000 individual animals, while also meeting their specific health needs. This often includes providing animals with opportunities to forage, chew on bones, or mimic other natural behaviors they would exhibit in the wild.
Before becoming an Associate Nutritionist at the Zoo, Dr. Parsons attended Colorado State University to complete her undergraduate degree in Animal Science. Oklahoma State University is where she received her Master's Degree in Zoology, leading her down the path to a PhD from Mississippi State University. Like many Zoo staff members, Dr. Parsons knew she wanted to work with animals from a very early age. After she was exposed to zoo nutrition, she was hooked. She knew this area of work was what she wanted to be doing for the rest of her life.
So, what does an animal nutritionist do? There is actually a lot of variety in what she does on a daily basis. She has to know how to prepare a menu for an animal that eats whole prey and an animal that requires only fruits and vegetables. Dr. Parsons also works closely with the veterinarians at the Zoo because some animals' medical issues can be addressed in their diet. For example, an animal might have a rash on its skin that is caused by or can be remedied through diet. Dr. Parsons will adjust a diet accordingly and monitor improvements in the animal. Sometimes zoo nutritionists also have to adjust diets as animals age. We met Jama, a 20-year-old North Chinese leopard, who has reached a remarkable age for a cat. Due to kidney issues, Dr. Parsons has amended his diet to include brown rice. To improve his health even more, Jama's new exhibit has been built to encourage him to exercise and climb by including a lot of vertical space. Diet and exercise go hand-in-hand to make sure an animal is as healthy as possible. This is why collaboration between vets and nutritionists is so important.
When designing an animal's meal plan, Dr. Parsons also considers allergies. Many animals can be allergic to common foods such as wheat, corn, or beef. Dr. Parsons has to be creative. She explained that the largest dog at the Zoo, Duke the Anatolian shepherd, is allergic to "the world," requiring Dr. Parsons to come up with alternative foods to give him. Dr. Parsons says, that with challenges like these, the job requires a lot of problem-solving and "you have to be brainstormers."
Zoo staff are constantly trying to provide sufficient nutrients in every animals' diet while also making sure the animal is not getting tired of the food it's eating. Dr. Parsons always asks herself three questions each time she prepares a menu for an animal. What is the animal most closely related to? What does it eat in the wild? How do they eat their food? If you're a Tasmanian devil, you like your food to be given to you as whole prey, because that's the way you would have enjoyed it in the wild.
When designing a diet plan for over 800 species, there is bound to be some conflicts with different animals' health needs or dietary constraints. That is why animal nutritionists like Dr. Parsons are important staff members in zoos. This profession is an emerging field, but the San Diego Zoo has recognized it as an important full-time job to make sure all animals' needs are being met. That's why students who are considering a field working with animals should consider zoo nutrition!
Tess, Careers Team
Week Four, Fall Session 2013
RELATED POSTS