Zoo InternQuest is a seven-week career exploration program for San Diego County high school juniors and seniors. Students have the unique opportunity to meet professionals working for the San Diego Zoo, Safari Park, and Institute for Conservation Research, learn about their job and then blog about their experience online. Follow their adventures here on the Zoo's website!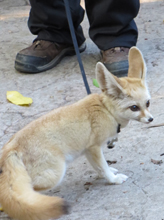 Doctors have to put up with a lot: patients who can't describe their symptoms, patients who freak out at the sight of needles, even patients who refuse to sit still during a procedure. Now, picture the patients as exotic animals of all shapes and sizes who can use their teeth and claws to let you know when they don't want to cooperate. As Behavior Husbandry Manager at the San Diego Zoo, it's Nicki Boyd's job to help keep the Zoo's animals calm and safe during medical procedures or other events that could be stressful for animals and humans alike.
With the help of people like Ms. Boyd, the Zoo trains its animals to respond positively to the presence of zookeepers and vets. Trainers use all kinds of tools like clickers, targets, and food treats to help direct and reinforce animal behavior. These training exercises are done regularly to make the animal more comfortable with specific motions so when a medical or dental exam comes up, it won't be as big of a deal. For example, a female hippo named Funani had to have her tusks trimmed in order to protect her mate, Otis. Trainers played a huge role during the dental procedure by having her "station" (move to a specific spot or position in her exhibit, indicated by a target) and "mouth open" (open her mouth for a trainer or vet to inspect or work with). Because Funani had routinely practiced this behavior and was comfortable with it, she did not need to be sedated. This increased safety for all parties involved and lowered stress, monetary costs, and the time and labor required to perform these tasks.
Being a trainer isn't easy. Each trainer needs an incredible amount of background knowledge and experience to handle the often unpredictable animals in their care. Ms. Boyd attended Moorpark College and recieved an associate's degree in science. She then got a veterinary technician certification from San Diego Mesa College and a bachelor's of arts in business administration from the University of Phoenix. Besides education, however, trainers need to be creative and quick on their feet to overcome unusual problems. Keeping cool and being patient through the sometimes frustrating process of training and interacting with an animal can be difficult, but it's essential to building that key relationship of trust and cooperation.
As she'll readily tell you, creating strong relationships with the animals is both the best and the hardest part of Ms. Boyd's job. Of course, a difficult part of her job is having to say goodbye to an animal, whether it is transferred to a different zoo or if it passes on. That just goes to show how much the trainers at the San Diego Zoo truly care about the animals they work with. It is this connection that drives them to dedicate their careers to the health and happiness of our Zoo friends.
Laura, Careers Team
Week Three, Fall Session 2013
RELATED POSTS