Zoo InternQuest is a seven-week career exploration program for San Diego County high school juniors and seniors. Students have the unique opportunity to meet professionals working for the San Diego Zoo, Safari Park, and Institute for Conservation Research, learn about their jobs, and then blog about their experience online. Follow their adventures here on the Zoo's website!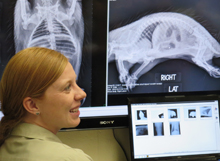 Every little kid has a dream. Some want to be the President, others a princess, or a doctor. For Dr. Christine Molter, things were different. She didn't know what she wanted to be for most of her childhood. After a very meaningful internship, she realized her calling was to be a Zoo vet and her mind was made up.
Growing up she wasn't quite sure of what she wanted to do, but she had always had an affinity for animals. Dr. Molter's journey began at Harbor Animal Hospital in Illinois, just a short distance from her home town in Wisconsin. The job began with mostly cleaning the facility and doing laundry. However, over time, Dr. Molter moved her way up and eventually got the opportunity to work the front desk and even assist the doctors in the exam rooms.
After finishing high school, Dr. Molter went on to receive a Bachelors of Science from the University of Wisconsin in Zoology and Conservation as well as a certificate in Environmental Studies. Upon finishing her undergraduate degree, she landed internships at the Disney's Animal Kingdom in the Reproductive Endocrinology department as well as at the animal hospital. It was at these internships that Dr. Molter had her "Ah-hah!" moment and realized that working as a vet in zoos and helping sick or wounded animals was actually "somebody's job" and a job she really wanted. Inspired, Dr. Molter returned to the University of Wisconsin for veterinary school. Currently, Dr. Molter is a Zoological Medicine resident. She is in a joint program with UC Davis, the San Diego Zoo, and Sea World. She is in the second year of her three year residency. Dr. Molter is working at the San Diego Zoo right now and will spend the remaining year of her residency at the San Diego Zoo Safari Park and SeaWorld.
For any aspiring veterinarians, animal researchers, or biologists, Dr. Molter had plenty of advice. At the top of the list was to volunteer and volunteer a lot. She also suggested that we intern with programs such as Zoo InternQuest and later through other zoological institutions such as the Disney's Animal Kingdom. She advised for anybody wanting to major in animal biology or something along those lines, to start getting all the pre-requisites you need for graduate school early in your undergraduate career. In addition, try to take a surplus of classes that could give you an extra edge over the competition. There are several helpful websites Dr. Molter gave us the links to that advertise animal related internships, veterinary residencies, and employment opportunities. These links are perfect for advancing veterinarian or animal biology students! Try checking out the outreach, calendar, or program search tabs on the following websites: www.aza.org, www.virmp.org, www.wildlifedisease.org, www.nwrawildlife.org.
Dream big, dream a lot, and try something new wherever you can! You never know if one new opportunity can take you to the profession you will fall in love with. This was certainly the case for Dr. Molter, who got to be exactly what she wanted to be when she grew up.
Haley, Careers Team
Week Two, Fall Session 2013
RELATED POSTS