Zoo InternQuest is a seven-week career exploration program for San Diego County high school juniors and seniors. Students have the unique opportunity to meet professionals working for the San Diego Zoo, Safari Park, and Institute for Conservation Research, learn about their job and then blog about their experience online. Follow their adventures here on the Zoo's website!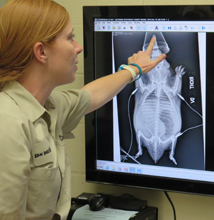 When visiting the Zoo, we usually come to see and learn about animals from other parts of the world we otherwise would not be able to see if we couldn't travel to Africa, Asia, or Australia. We may admire one exhibit, take a few pictures, and then move on to the next. But very few of us think in depth about all the hard work that goes into making sure those animals are happy and healthy in their enclosures. Without people to take care of the animals, many of them would not be here and none of us would have the privilege of seeing them during our lifetimes.
We visited the Animal Hospital in the Scripps Building next to the San Diego Zoo and met Dr. Meg Sutherland-Smith and Dr. Christine Molter, both of whom care for, treat, and house sick and injured Zoo animals in the hospital. Dr. Sutherland-Smith is a the Associate Director of Veterinary Services at the San Diego Zoo, and Dr. Molter is a resident veterinarian at the San Diego Zoo. The professionals guided us through the hospital, explaining what each room was used for and which pieces of equipment are used on the animals that are taken in for treatment. We started in the exam room, where Dr. Molter demonstrated how to use a dart to anesthetize an animal, showing us the three parts of the dart (syringe, needle, and tail) and explaining that darting is one method of delivering the medicine into an animal's body. Dr. Molter also pointed out the carbon dioxide monitoring device used on animals while under anesthesia, and tracheal tubes used for delivering oxygen that come in different sizes for different species of animals. We also visited the surgery room, the intensive care unit, and the pathology lab, which all contribute to caring for, researching, and operating on animals that are sick or injured. The most exciting part of the day to me was when we went into the radiation room and got to see the radiographs (Dr. Sutherland-Smith prefers them to be called radiographs instead of X-rays, because X-rays are what are used to create a radiograph). We got to see the radiographs of an echidna with a urinary tract and fungal infection, a pregnant Allen's swamp monkey, a snake which had eaten another snake, an African bullfrog, and a fruit bat with a broken finger bone.
As veterinarians for the Zoo animals, these professionals serve some of the largest roles in animal conservation because of their job of saving them from disease and/or injury so that they're able to reproduce and live on as a species. It is inevitable for animals to become sick or hurt during their lifetimes, and without hard work and care from professionals like Dr. Sutherland-Smith and Dr. Molter, many of them would not survive. Doctors of Veterinary Medicine at the Zoo cannot always save animals that become sick or injured, but inventions that make treating or operating on animals are becoming more and more advanced every year, making it easier for Zoo vets to save animals. Becoming a veterinarian is a rigorous, lengthy process and is surely not feasible for all of us, but we can still take steps to conserve and protect the lives of the beloved Zoo animals. For example, being hygienic to keep from spreading diseases to animals we come into contact with by using disinfectant on our hands and shoes (we had to disinfect our shoes before leaving the animal hospital so that pets at home or other animals at the Zoo would not come into contact with any germs we were carrying out of the hospital). It is important that we recognize the value of animal and wildlife conservation, and that we remember to be grateful for the dedication of veterinarians everywhere for keeping animals healthy and able to live contentedly.
Juliette, Conservation Team
Week Two, Fall Session 2013
RELATED POSTS