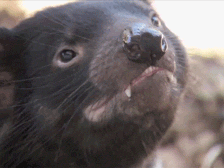 We are over the moon excited for our newest additions to the San Diego Zoo's animal collection, the Tasmanian devils! A year and a half ago, I was chosen to attend a workshop on Tasmanian devil husbandry at Trowunna Wildlife Park in Tasmania (Australia's island state), with the hope that our zoo would someday be chosen to exhibit this wonderful and unique species. I have been anxiously awaiting their arrival and was thrilled when we got the word that we would have them here in San Diego. At the moment, we are the only zoo in North America to have them on exhibit. We were honored to be chosen and are excited that they seem to be making themselves at home (digging up a storm!) and have already shown their different personalities.

Our four Tasmanian devils (three males and one female) came from Taronga Western Plains Zoo in Dubbo, New South Wales, Australia. Upon arrival, they were actively exploring their exhibit areas and seemed to settle in just fine. Jake has proven to be quite the horticulturist, rearranging plants in his exhibit and pulling them into his dens. Conrad appears to be fairly easy going and enjoys a good dig—as they all do! Debbie is much more on the shy, reserved side and prefers to watch us from afar. Nick has proven, so far, to be the most outspoken of the group. He frequently vocalizes as we arrive to service their exhibits.
We are excited to see their personalities develop as time goes on. It is also a wonderful opportunity for everyone to learn a little bit more about a species that many people don't know a lot about or have ever even had the chance to see before. Their exhibit opens to the public on October 24, 2013, after the completion of their mandatory 30-day quarantine.
Katie Tooker is a senior keeper at the San Diego Zoo. Read her previous post, Tonahleah: A Special Koala.
RELATED POSTS