Zoo InternQuest is a seven-week career exploration program for San Diego County high school juniors and seniors. Students have the unique opportunity to meet professionals working for the San Diego Zoo, Safari Park, and Institute for Conservation Research, learn more about their jobs and then blog about their experience online. Follow their adventures here on the Zoo's website!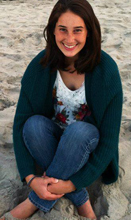 I suppose I should start my first blog entry by introducing myself. My name is Tess and I am a senior in high school.
During my sophomore year of high school, I came across the Zoo InternQuest internship while researching possible internships at the San Diego Zoo and thought that this experience would be a perfect fit for me. So, I made sure to apply my senior year, and couldn't be more delighted that I have the opportunity to take part in this experience.
My fascination with animals has existed since the time my family came home with a kitten when I was only two years old. From this point on, I have always been surrounded by animals and exposed to their extreme sense of love and care that they often share with people. Because I also love and care so much about animals, I hope to one day become an animal conservationist and help improve the animals' conditions and life expectancy in the wild. Although I am entering this internship with an idea of what I see myself doing in the future, I am hoping to learn about new opportunities working with or researching animals that I hadn't considered before.
I keep busy with all of the duties senior year requires while also being part of the International Baccalaureate program at my high school. I enjoy playing soccer for my high school team, playing the clarinet, and being president of an environmental club at my school called Save the World Friday's.
I can't wait to begin my life-changing journey through the Zoo InternQuest program as I enter this experience with an open heart and an open mind.
Tess
Fall Session 2013
RELATED POSTS