Zoo InternQuest is a seven-week career exploration program for San Diego County high school juniors and seniors. Students have the unique opportunity to meet professionals working for the San Diego Zoo, Safari Park, and Institute for Conservation Research, learn about their jobs and then blog about their experience online. Follow their adventures here on the Zoo's website!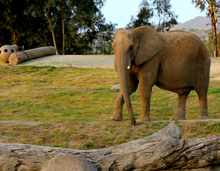 There continues to be the debate on whether or not animals should be kept in managed care facilities, like zoos. I had the opportunity to spend the afternoon with Dr. Lance Miller, a scientist with the Behavior Biology Division for the San Diego Zoo Institute for Conservation Research, who shared some of the benefits of having wild animals in managed care facilities. Benefits like conservation education, preservation of species, and research to name a few. We also discussed animal rights vs. animal welfare with reference to providing the best care for the animals while living at the Zoo.
To clarify the difference, animal welfare focuses on the scientific approach and is based on evidence gathered by researchers to make the best choices to meet an animal's needs. Animal rights are a philosophy and is based on an individuals opinion. After learning about the two, I of course believe that animals do have rights, and should not be hunted or used in any way that is harmful to their well-being. Zoos work to meet the needs of the animals and will change or improve an enclosure or an animal's diet to make the animal as comfortable and happy as possible. On a typical day of work, Dr. Miller is analyzing data or gathering data to make sure that the animal's needs are being met. Some of this data might suggest that the lions are becoming bored in their exhibit and would enjoy a new toy or activity to get them interacting with their exhibit.
We took a trip over to the Safari Park to view the elephants. Although the elephant exhibit is quite large, as a biology behaviorist, Dr. Miller has to make sure that the elephants are getting enough exercise. He described that some zoos are having trouble exercising their elephants, because the elephants often choose eating over exercising or playing. At the Safari Park, the adult elephants are at an ideal weight and are getting enough exercise. In fact, one of the elephants was eating its food out of a plastic barrel that ended up rolling all the way down  one of the exhibit's hills. Before my own eyes, I saw one of the younger elephants charge after its food to continue munching out of the barrel. Jokingly, I said, "That elephant got his exercise for the day."
Dr. Miller has a Bachelor of Arts from Rollins College and a doctorate degree from the University of Southern Mississippi, both in psychology. Dr. Miller was first part of the San Diego Zoo Institute for Conservation Research in 2009 as a research coordinator and was later promoted as a scientist in 2010. Currently, Dr. Miller focuses on environmental enrichment, positive or negative behavioral responses relating to animal welfare (like with the elephants or lions), and factors related to animal welfare. Some of his past work includes working at the Education Department at Disneyland, where he got a lot of hands-on experience. Dr. Miller suggested that we volunteer as much as possible if we were interested in pursuing a career like his. A degree from college is also a valuable tool, but volunteering and making connections is one of the best things someone seeking a career working with animals can do.
Similar to Dr. Miller's job, I want to research and study animals to help decrease the amount of harm humans are having on them and their habitats. Animals do have rights and as humans we have the power to help meet the needs of animals by supporting and taking part in the conservation efforts.
Tess, Careers Team
Week One, Fall Session 2013
RELATED POSTS