Zoo Intern Quest is a seven-week career exploration program for San Diego County high school juniors and seniors. Students have the unique opportunity to meet professionals working for the San Diego Zoo, Safari Park, and Institute for Conservation Research, learn about their jobs and then blog about their experience online. Follow their adventures here on the Zoo's website!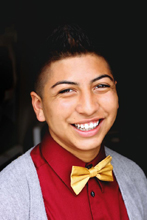 Hello my name is Joseph and I am currently a junior in high school. While being a very well rounded and completely involved student, I also manage a high GPA. I am the Junior Class President as well as Key Club President. Since a very young age, I have always had a very strong connection with animals and all other living organisms. They just brought me a sense of passion and love that nothing else could bring me.
I would like to pursue a career in biology, zoology or wildlife conservation because I want to be an advocate for animals. It would also allow me to express my passion and love for the animals. One of my biggest inspirations was my Biology teacher. She was always there for me and talked about many things relating to biology and zoology. One thing I will always remember that continues to inspire me everyday is when she wrote on a sticky note and put it on my book that said,  "Never stop believing in your dreams in becoming a biologist."
InternQuest is going to give me is the experience, knowledge, and opportunity to work with people who have already gone through high school, college, and higher education to obtain the career that I may possibly want to have one day. I would also be learning more information about all the animals, how to help them, and get to write about my experiences along the way.
InternQuest will help me pursue my passion for zoology, biology, and wildlife conservation, and I'm hoping this program will help me decide what college I want attend in the fall of 2015. As of now I have a dream to go to University of California Santa Barbara, majoring in Marine Biology and Zoology. Another top school I would like to go to is Unity College America, which is the top environmental school.
Joseph
Fall Session 2013 
RELATED POSTS