Zoo InternQuest is a seven-week career exploration program for San Diego County high school juniors and seniors. Students have the unique opportunity to meet professionals working for the San Diego Zoo, Safari Park, and Institute for Conservation Research, learn about their jobs and then blog about their experience online. Follow their adventures here on the Zoo's website!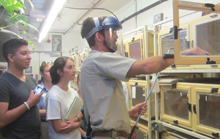 While many people consider reptiles gross, scaly, and slimy, San Diego Zoo Educator and Reptile Keeper Peter Gilson sees theses animals in a different light. For the past six years, Mr. Gilson has been fortunate to hold a variety of positions, such as a Conservation Research Intern, Summer Camp Program Aide, and currently he splits his time as a Zoo Educator and Reptile Keeper. He found his passion for reptiles at a very young age. When he visited the Zoo at 11 years old, he decided the Zoo was where he wanted to be. His desire to work with reptiles at the San Diego Zoo was decided when he visited the Zoo during his senior year of high school and received a tour from Brett Baldwin (now the Animal Care Supervisor).
To pursue his dreams, Mr. Gilson moved to San Diego and attended Point Loma Nazarene University, majoring in environmental science and minoring in communications. Throughout college, to strengthen his appeal to the Zoo, Mr. Gilson did multiple internships (one being with the San Diego Zoo) and also did a fellowship at the San Diego Zoo Institute for Conservation Research in Applied Animal Ecology. He also worked with the Zoo's summer camps as a Program Aide for two years before getting hired on as a full-time employee. Mr. Gilson's advice to anyone wanting to work with animals is volunteer, volunteer, and volunteer to gain valuable experience.
As a Keeper, Mr. Gilson has many responsiblities that pertain to creating comfortable living enviroments for the animals. Along with feeding the reptiles, Keepers at the Reptile House use food to train the animals to respond to simple commands, which creates stimulation for the reptiles. Another very important job in the Reptile House is maintaining the specific temperatures within area. Each corridor is based on the habitat of the animals that live there. Lots of corridors house exotic, tropical animals that need a humid and warm environment. Although this may be uncomfortable for Keepers like Mr. Gilson, it is essential for the survival of the animals.
Besides working as a keeper for the Reptile Department as often as he can, Mr. Gilson is an Educator for the San Diego Zoo. Mr. Gilson's favorite part of his job is doing tours and talking to people of all ages about the animals he loves. One of the most challenging things Mr. Gilson faces is the reality of the status of many plants and animals and the rising extinction rates. By educating the public, Mr. Gilson hopes to spread the word of conservation and encourage everyone to be more aware about his or her environmental footprints.
Leslie, Career Team
Week One, Fall Session 2013
RELATED POSTS