Zoo InternQuest is a seven-week career exploration program for San Diego County high school juniors and seniors. Students have the unique opportunity to meet professionals working for the San Diego Zoo, Safari Park, and Institute for Conservation Research, learn about their jobs, and then blog about their experience online. Follow their adventures here on the Zoo's website!
Hey there! I'm Leslie and I love animals.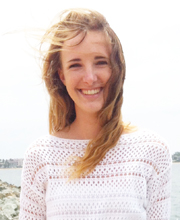 This school year I am attempting to balance school and fun in what some say is the "most difficult year of high school", junior year. With AP and Honors classes it can be a challenge to make time for my hobbies, which include going to the beach, spending time with friends, and traveling. I also enjoy biking, surfing, and horseback riding because of my love for the outdoors and nature.
Animals have always been a significant part of my life. As a child, I grew up watching television shows like Zooboomafoo and Animal Planet and reading as many animal, fact-filled books as I could get a hold of. I also frequently visited the San Diego Zoo and Safari Park and believe my visits helped establish the passion that I possess for all animals, great or small.
My greatest interest lies in big cats.  Since the fourth grade, I have had a real fascination with exotic cats from Africa and Asia, especially the leopard and the lion. This stemmed from my years of watching the show "Big Cat Diary." My ultimate dream would be to become a zoologist or biologist studying the big cats in the Serengeti or Masai Mara of Africa. My interest in big cats may have something to do with their intriguing behavior, particularly the variation between different species, along with their fascinating personalities and majestic appearances.
My love for animals led me to search for a program that could help me to achieve my goals of a career with animals. That's how I found the Zoo InternQuest program and am so excited to be a part of it.
Leslie
Fall Session 2013
RELATED POSTS