Zoo InternQuest is a seven-week career exploration program for San Diego County high school juniors and seniors. Students have the unique opportunity to meet professionals working for the San Diego Zoo, Safari Park, and Institute for Conservation Research, learn about their job and then blog about their experience online. Follow their adventures here on the Zoo's website!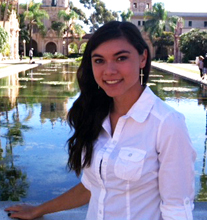 Hi! I'm Laura, part of the Zoo's InternQuest program this fall. My interest in the world of science and this program can be pretty much summed up in the Star Trek introduction: "Space: the final frontier. These are the voyages of the starship Enterprise. Its five-year mission: to explore strange new worlds; to seek out new life and new civilizations; to boldly go where no man has gone before." – Captain James T. Kirk. Yes, I'm a nerd, but to a student like me, how appropriate are those words! The bold exploration, the endless discovery… What else would one ever want to do with their life? Maybe I can never skipper a spaceship or befriend aliens, but through the study of our own home planet I can have experiences just as exciting and bizarre as anything Kirk ever found. And, like any brave space hero, I'm dedicated to the protection of Earth through knowledge and activism. It's no wonder I was driven to apply for the Zoo InternQuest program. I couldn't think of a better way to get an inside look at the jobs of people who strive to understand and conserve wildlife.
Apart from saving the world, I'm a high school senior who enjoys rowing, scuba diving, and playing bass guitar. However, like my other passions, my love of music is usually accompanied by some kind of outdoor adventure. After all, the natural environment is one enormous orchestra, and it's our duty to do our part to help it stay in tune. I'm determined to defend the parts of the world I've been so inspired by, having traveled around the world to places like Japan, Singapore, Australia, China, New Zealand, Guam, and the Virgin Islands.
On that note, I can't say enough about how grateful I am to have the opportunity to learn from the staff here at the San Diego Zoo. I hope you'll join me and my fellow interns on our journey with InternQuest. I certainly look forward to it!
Laura
Fall Session 2013
RELATED POSTS