Zoo InternQuest is a seven-week career exploration program for San Diego County high school juniors and seniors. Students have the unique opportunity to meet professionals working for the San Diego Zoo, Safari Park, and Institute for Conservation Research, learn about their jobs, and then blog about their experience online. Follow their adventures here on the Zoo's website!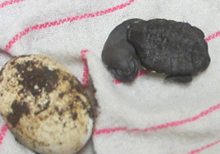 Imagine you are at a family reunion. You have not seen your enthusiastic, wholehearted grandmother since the beginning of last year. Suddenly, she spots you in the corner of the room, screams, runs over to you, and gives you one of those big, suffocating hugs, shrieking about "how much you've grown!" and forcefully pinching your cheeks. You are both terrified and humiliated.
We can imagine that this is similar to the way a small animal feels when a human acknowledges it in its natural habitat and doesn't want to leave it alone. It's undoubtedly fascinating when you find an interesting organism while on a hike or while walking through your back yard, but its important to leave it where it is and simply admire it from afar, so as not to disturb, frighten, or accidentally hurt it.
On Thursday, we had the opportunity to meet and learn from Mr. Peter Gilson, an Educator Guide at the San Diego Zoo whose specialty is reptiles and amphibians. Mr. Gilson brought us behind-the-scenes in the Reptile House, teaching us about Komodo dragons, Galapagos tortoises, alligators, crocodiles, and several species of lizards and snakes. We had the privilege of seeing some of the most endangered reptiles in the world up close. Mr. Gilson took us into every wing of the Reptile House. My personal favorite was the incubation room. The incubation room is where the eggs of soon-to-be-born reptiles and amphibians are kept in temperature-controlled environments. This is important because developing eggs require very specific temperatures in order to grow properly. Mr. Gilson explained to us that the sex of certain species of turtles depends on the temperature the eggs are exposed to while in the nest. This is convenient in zoos because it is easy to control what sex of turtle you want to have for breeding, but it's also problematic in the wild because climate change is causing the world to become hotter, which could in turn cause imbalances in the number of male and female turtles, leading to difficulty finding a mate. We had the opportunity to see a newly hatched turtle that was still being kept in the incubation room, along with a variety of poisonous snakes, including a two-headed California king snake. We also got to touch a shingleback skink, which Mr. Gilson explained was one of the very few reptiles in the world that is monogamous- they may have only have one mate in their lifetime!
Though Mr. Gilson is enthusiastic and enthralled with his job, he explained that it is also a difficult job because of what is happening in the world. It's challenging for him to face the reality that so many species in the world are endangered. He says that reptiles and amphibians, especially, face serious problems in the wild due to pollution and human disruption. It's more important than ever for zoos to take these animals into managed care and breed them so that they don't become extinct. Mr. Gilson also told us that, although turning back the effects of climate change can only be done collectively by all humans, there are certain measures we can take as individuals to preserve wildlife. Besides not being wasteful with resources, we can protect animals simply by being observant. For example, we can be careful we don't accidentally step on an animal's nest outside or alarm them in any way when we are visiting their habitat. We can also help by being responsible pet owners and not letting our pets disturb other animals living in nature. Perhaps most importantly, we should never frighten or irritate wild animals by intruding in their space or taking them out of their habitats, no matter how cute and cuddly they might be.
It's important that, as humans, we take responsibility for protecting the world we live in. This means protecting every species of animal. Though most people don't intentionally try to disturb or harm reptiles and other types of animals, sometimes they don't even notice how much damage they are doing. Be careful where you step so as not to accidentally crush a turtle's nest on the beach. Never throw trash in a place that will disturb an animal (anywhere other than a trash can). And when you do cross paths with an animal that strikes your interest, leave it alone. Watch quietly in admiration, take a few pictures, and make observations about the animal you find. But don't mess with it, and definitely don't take it out of its natural habitat. Don't be the obnoxious grandmother.
Juliette, Real World Team
Week One, Fall Session 2013
RELATED POSTS