Zoo InternQuest is a seven-week career exploration program for San Diego County high school juniors and seniors. Students have the unique opportunity to meet professionals working for the San Diego Zoo, Safari Park, and Institute for Conservation Research, learn about their jobs and then blog about their experience online. Follow their adventures here on the Zoo's website!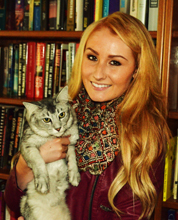 I am Juliette, the hodge-podge product of eclectic, mad scientist parents. Growing up, there was always loud Led Zeppelin music blasting in my house as my parents discussed science in the living room, and me, listening in wonder and asking questions to the point that it drove them crazy. Though my parents are unorthodox, I feel lucky to have them because they raised me to be creative and curious about the world around me. 
Since a young age, I've been fascinated by the natural world. As a kid, I was always a tomboy and an introvert; I loved playing in the dirt, catching bugs, and reading books about dinosaurs. When I got older, I found my more girly side and grew to love the company of friends, but never lost my quiet fascination with nature and the open-mindedness my parents taught me to have about the world.
During my upbringing, I've fostered and owned a larger-than-average number of animals: dogs, birds, fish, rabbits, rodents, lizards, frogs, a giant Sulcata tortoise, and an enormous, possibly unhealthy number of cats, my favorite household animal (yes, I'm that girl that always shows up places with cat hair all over her clothes). I've always loved interacting with animals and observing them on family trips to the zoo. I am ecstatic about the opportunity I've been given to see behind the scenes at the San Diego Zoo, the best and most prestigious zoo in the world.
Aside from my interests in the natural world, I enjoy a host of other activities. I participate in a few other extracurriculars, such as volunteering at Helen Woodward Animal Center, and at a charity organization that packages and serves food to the homeless in both San Diego and Tanzania. I have also been a gymnast for fourteen years and I am a fourth-year returning varsity gymnast for my high school (the bars are my favorite). I have enjoyed four AP classes at school including psychology, English language, human geography, and literature. When I have free time outside of school, I like to make and edit movies with my friends, read fantasy/adventure books, and recreate baked goods I find pictures of on Pinterest.
I am always looking for the next program that I can be involved in so that I can discover what career I would like to pursue in the future. My hope is that with this program, I can decide what part of putting the Zoo together is most exciting to me. Becoming an intern at the San Diego Zoo is a dream come true because it combines so many different things I love to do, I cannot believe how lucky I am! I would love if you followed me through my adventures as an intern for the next couple of months so that I can share with you all the fantastic learning opportunities the program provides me with. Enjoy!
Juliette
Fall Session 2013
RELATED POSTS