Zoo InternQuest is a seven-week career exploration program for San Diego County high school juniors and seniors. Students have the unique opportunity to meet professionals working for the San Diego Zoo, Safari Park, and Institute for Conservation Research, learn about their jobs, and then blog about their experience online. Follow their adventures here!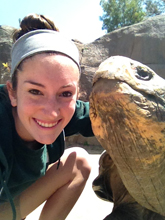 Ever since I was old enough to appreciate the nature around me, I was drawn to it. My afternoons were taken up by bug hunts in the backyard, butterfly gardens, trips to the Zoo, and hikes with my family. In my other free time I could be found watching Animal Planet, reading animal books, or even conducting "research projects" on the animals I discovered. Needless to say, my love of animals started at a very early age, and it has only grown over the years.
My interest in the San Diego Zoo grew out of an assignment in my fifth grade class: we were instructed to write business letters to local establishments. I wrote mine to the Zoo inquiring about volunteer and internship opportunities and was introduced to the Zoo Corps program. For those who are not familiar with it, Zoo Corps is an incredible program for teens through the Education Department. I've learned so much about San Diego Zoo Global and it also really inspired me to get involved with InternQuest. I feel so lucky to be part of such an amazing program where I hope to gain insight into the different career paths at the Zoo as well as continue to educate myself about animals and the environment.
Besides juggling my junior year of high school and my Zoo involvement, I'm also involved in competitive fencing. I fell absolutely in love with the sport after seeing a demonstration while on a trip to Europe (I love to travel!) and have been doing it ever since. I compete in both the local and national circuits and aspire to, eventually, participate in international competitions.
I cannot wait for my internship to start so I can begin my newest adventure. I hope you will follow along with me on this awesome journey and enjoy my blogs as much as I will enjoy putting them together!
Haley
Fall Session, 2013
RELATED POSTS