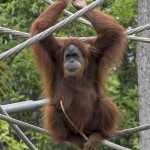 Since the day orangutan Cinta went to the St. Louis Zoo, I have been asked on a daily basis "Are we going to have another baby orangutan?" Since the day we got permission from the Species Survival Plan for orangutans and took Indah off her birth control, I have been asked "Is Indah pregnant?" My answer would always be "These things take time. It's only been a couple months." Well, I can finally say it; no, yell it: INDAH'S PREGNANT!

Our girl is a real Fertile Myrtle; it seems she got pregnant her first month off birth control! All indicators point to a positive pregnancy. She has a decrease in appetite, an increase in lethargy, and she is very sweet and calm with her keepers. These are behaviors typical of a pregnant orangutan and behaviors she exhibited during her pregnancy with Cinta. Indah tested positive to a urine pregnancy test during her first trimester. Orangutan pregnancies are about 245 days (8.5 months), so we expect the baby to be born in October.
Now, you won't see many changes with Indah and our management of her. Orangutan babies are only 3.3 to 4.5 pounds (1.5 to 2 kilograms)
 when born, so Indah will not gain much weight. You might be able to see some physical changes, like an increase in belly size and nipple changes. Indah will be staying with the group and be going on exhibit daily during her pregnancy, so look for her on exhibit and on Ape Cam!) We want to keep things as normal and routine as possible for Indah to keep her calm. Her behavior will let us know if we need to make changes to her routine—we let the pregnant lady decide what she wants to do!!
Orangutans can develop health problems much the same as pregnant humans, but the risk is minimal. We will, of course, be keeping a close eye on her health as we do with all the animals. We are very excited about this pregnancy and are looking forward to a little red-headed baby!
Tanya Howard is a senior keeper at the San Diego Zoo. Read her previous post, Orangutans Clyde and Cinta.
RELATED POSTS