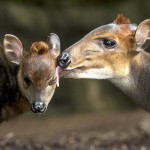 During my years at the San Diego Zoo, I've seen thousands of guests watch keepers with as much curiosity as they give the animals. Eyes follow that besmudged, khaki-clad person, arms loaded down with buckets or pulling a wheelbarrow full of unidentifiable and smelly stuff. Where do keepers disappear to in between those brief periods of travel? What is behind that big gate or inside that noisy building? Would it surprise you to know that there are very large areas of the Zoo that are what we call off exhibit?

These areas usually house animals that can't be on exhibit for some reason or other: maybe they are in need of special vet care, they're getting an update to their exhibit (or maybe a brand-new one!), they are part of one of our conservation breeding programs, or they just need a day off to relax in a hammock and snack on some treats. The area of the Zoo I work in caters to all of those needs and more! This area is only briefly visible from the top level of one of our popular double-decked bus tours as they pass the Elephant Care Center in our Elephant Odyssey. We affectionately call this place the Back 40.
One place in our Back 40 where I spend a good amount of time is called the Shipping Pens. Picture a place where the walls can move and the floor can drop out and where we can take care of the special needs of just about any ungulate species (hoofed animal) that we have at the zoo! One of the biggest functions of the keeper at Shipping Pens is the shipment of animals, both incoming and outgoing. When the Zoo's curator sends us a move notice for an animal, we usually move it to Shipping Pens, where the keeper can work with our veterinarian staff to make sure the animal gets all of its necessary pre-shipment exams, gets used to being in a crate or trailer, and anything else we can do to make sure the animal will have a stree-free move. If that animal(s) is/are internationally bound, there is usually a quarantine period that is monitored by a US Department of Agriculture veterinarian, whom we also work with.
The Shipping Pens keeper also takes care of special vet cases. I've helped reattach a horn on a male Soemmerring's gazelle when he broke it off sparing with another male in his exhibit. I have found ways to get a male yellow-backed duiker to take his medication when he didn't want to eat anything. I have manually restrained a male pronghorn so the vet could clean out a leg wound and administer topical medication. I've helped bottle feed a baby royal antelope when her mother was unable to nurse her well enough. At the Shipping Pens, I have helped nurse animals back to health and have provided them with a nice, quiet place in which to do so.
This area also has the unique distinction of being one of the most action-packed areas in the Zoo. In most areas of the Zoo, keepers might perform up to 10 animal moves a month, if it's busy, but in our area, there was one month when we moved over 40 animals! Keepers who work this area need to know how to work with any species of hoofed animal that visits.
If you think what's happening on exhibit is cool, it's nothing compared to what happens behind that big gate! Sure, there's an awful lot of poop to clean up, but there is also tons of really interesting stuff getting done at any given time, in any off-exhibit area. And since you can't come visit us, I thought I'd bring a little bit of our world to you! So next time you find yourself on the top level of the tour bus going through Elephant Odyssey, take a second to look left, over the big gate, and wave at us there in the Back 40!
Ashley Roberts is a keeper at the San Diego Zoo.
RELATED POSTS