Zoo InternQuest is a seven-week career exploration program for San Diego County high school juniors and seniors.  Students have the unique opportunity to meet professionals working for the San Diego Zoo, Safari Park, and Institute for Conservation Research, learn about jobs, and then blog about their experience online.  Follow their adventures here on the Zoo's website!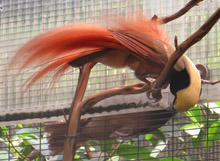 Peek through the window of an incubator at the San Diego Zoo's Avian Propagation Center (APC), and you're likely to come face to face with the most compelling reason to not tidy up your garden this weekend. When I peered in during a tour of the facility, I saw a raggiana bird of paradise, only a few hours old and completely featherless, dozing in a little basket inside the incubator. The raggiana, the first chick of the new season (which runs from mid-March to late August), was smaller than the heel of my hand. It was his keeper, Ms. Ann Knutson, who educated my fellow interns and I on what she does to help the exotic birds that come into her care. She also explained what we can do at home to help our neighborhood birds.
While the little raggiana is the first chick to hatch at the APC this year, many other eggs have hatched on exhibit at the Zoo. Most of the eggs laid at the Zoo hatch on their own and are raised by their feathered parents. However, sometimes eggs must be "pulled" from their nests. This is generally a rare practice, and usually occurs only when the Zoo's staff have reason to believe that the egg is in some sort of danger. For example, several of the male kiwi are very inexperienced at looking after an egg and have been known to accidentally step on and crush them. In such cases, the eggs are pulled and sent to be hatched and raised at the APC. There they are cared for in special incubators until they are ready to hatch, at which point they are moved to different hatching incubators. When they open their eyes, Ms. Knutson and her fellow keepers all don sheer coverings, known as "ghosts," during feedings, to keep the young birds form imprinting on humans. As they grow up, they are gradually transitioned from incubators to outdoor enclosures, and finally to their exhibits.
Ms. Knutson and her colleagues also care for the "dirty chicks" brought to the APC (designated as "dirty" because they come from exhibits in the Zoo and may have parasites). Sometimes, a storm will knock a chick from its nest or a parent will be neglectful or aggressive towards a chick. When it becomes dangerous for an already-hatched chick to stay in its exhibit, the chick will be sent to the APC for rearing. The keepers at the APC raise these chicks the same as they do the ones that hatch out in the Zoo, with one major exception: because the dirty chicks hatched outside the APC and have been exposed to any number of potentially harmful bacteria, they must be kept in a separate room from the chicks born into the very controlled, sterile environment of the APC. Ms. Knutson says that they usually see only about three of four dirty chicks a year, but that last year they raised an incredible 44 dirty chicks due to an unusual number of rough storms. Even in the mostly-contained environment of the Zoo, the risk of a predator attacking a chick on grounds is too great to chance. The APC provides a safe, clean environment for rearing.
In addition to telling us about her work, Ms. Knutson reinforced what we'd heard several weeks ago from Ms. Colleen Wisinsky who works at the San Diego Zoo Institute for Conservation Research on a project to save the endangered cactus wren. Native plants are critical to every facet of an ecosystem, but birds in particular depend on them for survival. Thick, low shrubbery offers places to hide, roost, and nest, as do tall trees. However, specific native species of birds (such as the cactus wren) often depend on specific species of native plants (such as the cactus). It's hard for the average individual to contribute to the future of the raggiana bird of paradise, but we can easily help out our local fauna by taking time to spread a little more local flora.
The keepers dedicate long hours to help birds at the APC but you can help your local birds by not dedicating long hours to ridding your garden of organic detritus (such as leaves, twigs and grass clippings). Sometimes, what you don't do can be as important as what you do. Wild birds often use the leaves and twigs that fall from the plants in our backyards to build their own homes. When you rake it all up and throw it away, the birds must find new resources with which to build their nests. I've seen several nests around my neighborhood that have bits of plastic and paper trash woven into them. Going all-natural with your garden is a good policy for all involved: the plants get nutrients from their decomposing leaf litter, the birds get nest materials, and you get more free time for other activities!
Be it in the Avian Propagation Center at the San Diego Zoo or in your own garden at home, there are dozens of ways to lend a helping hand to the birds that are so critical to our world's ecosystems. As the saying goes, "think globally, but act locally." For you, "local" action can start right in your own backyard!
Cameron, Real World Team
Week four, Winter Session 2013

RELATED POSTS