Zoo InternQuest is a seven-week career exploration program for San Diego County high school juniors and seniors. Students have the unique opportunity to meet professionals working for the San Diego Zoo, Safari Park, and Institute for Conservation Research, learn about their jobs, and then blog about their experience online. Follow their adventures here on the Zoo's website!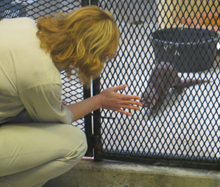 When people visit the San Diego Zoo, to see all of the amazing animals, they often forget what really goes into making the animals comfortable and happy. Hidden atop a hill in the Zoo is the Jennings Center for Zoological Medicine at the San Diego Zoo. It is a fully functioning hospital for the Zoo, equipped with an advanced radiology department and an impressive surgery room; however, few know its true value to all the animals.
After meeting with Senior Hospital Keeper, Kristin Clapham, we got an inside look at all of the hidden treasures within the Zoo's hospital. She showed us around the facility, allowing us to see its various amenities for the animals there – whether for medical reasons or just a needed vacation away from their home in the Zoo. Ms. Clapham acknowledged that when people first think of her job at the Zoo's hospital, they think every animal there is a critical case in dire circumstances. She assured us this assumption is very wrong, and in fact, the hospital often functions as a sort of "spa" for the animals
Ms. Clapham referred to the "spa time" as "ins and outs," meaning the animals can come in when needed and then go out, or leave, when they are ready to. She explained that often the animals just need a break from their important ambassador lifestyles to relax and get some "TLC." We happened to stumble upon Pori, a spot-necked otter, who had just had a hysterectomy because "she and her uterus did not get along." Although Pori did have a medical procedure at the hospital, after the surgery, she was in need of some spa time. Pori's "spa room" was accommodated with heated floors, a pool, a comfy bed, and even some music as well! She seemed to be enjoying her time up at the Zoo's hospital.
Attendance to the animals is key in making their stay comfortable. In order to make sure Pori and the other animals staying at the hospital are content, there is an advanced camera system that streams live videos of each room and area. This way the hospital keepers and other staff can monitor each animal so they remain "clean, quiet, and content," a main goal of the hospital's. Whether it is providing tasty meals or other accommodations, the Zoo's hospital has exemplary customer service.
Thanks to the Jennings Center for Zoological Medicine at the San Diego Zoo, the animals living in the Zoo not only have top notch veterinary services available for them, but they also have an additional place to call their "home away from home" when a relaxing and soothing vacation is needed. I know if I was an animal at the Zoo, I would enjoy my visits to the hospital day spa too.
Abby, Real World Team
Week Four, Winter Session 2013
RELATED POSTS