Zoo InternQuest is a seven-week career exploration program for San Diego County high school juniors and seniors. Students have the unique opportunity to meet professionals working for the San Diego Zoo, Safari Park, and Institute for Conservation Research, learn about their jobs, and then blog about their experience online. Follow their adventures here!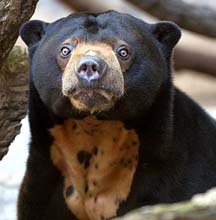 This week we met with Senior Research Technician Suzanne Hall. Ms. Hall began her journey at UCSD, majoring in ecology, behavior, and evolution, with a minor in psychology and political science. She now has worked in the Applied Animal Ecology Division at the San Diego Zoo Institute for Conservation Research since 1998,  dedicating her life to animal behavior, specifically with Asiatic bear conservation. Essentially, her life's work has been like a giant bear hug for conservation. Being a part of the Giant Panda Conservation Unit, she and her colleagues have helped bring awareness and new knowledge to the public about these bears.
According to Ms. Hall, she became involved with Asiatic bears through "serendipity and necessity," or chance and opportunity, because people like her were needed in that field of conservation. Through her research of panda cub development, mother-to-cub relations, and other studies, she has helped to enhance panda awareness. With such great success with the pandas at the San Diego Zoo, allowing them to become panda "ambassadors" for their species, she hopes to continue further Asiatic bear conservation.
Although Ms. Hall has put in so much effort for the pandas, she has an immense passion for the sun bear as well! Unfortunately, sun bear habitat is declining at an astronomical rate. Little work is done with them in the wild, and there are not many conservation efforts in place to help them. Few people are as familiar with the sun bear as they are with the giant panda. Ms. Hall hopes to bring recognition to them through the panda's success.
There are often many challenges that come with wildlife conservation. It can be extremely difficult to create new conservation projects because of a lack of funds. This is one of the biggest challenges for Ms. Hall and can lead to a lot of discouragement. Luckily, her passion for sun bears can outmatch any discouragement she may face. Another challenge for the sun bear is palm oil. Palm oil harvesting is causing sun bear habitat to decline rapidly, because it is such a lucrative product. Ms. Hall hopes that by spreading the word about the sun bear crisis and unsustainable palm oil, she can have the chance to save them.
Whether she is traveling around the world, helping with research, or recommending new techniques for conservation, Ms. Suzanne Hall has had an extraordinary impact on Asiatic bears. Although she may not be able to hug her beloved bears, she can still give them her own special bear hug through their conservation. It is people like her who really make a difference in the world.
"It's important to do research in a white coat, but what really matters is to mobilize the public to make a change." – Suzanne Hall
Abby, Careers
Week Three, Winter Session 2013

RELATED POSTS