Zoo InternQuest is a seven-week career exploration program for San Diego County high school juniors and seniors. Students have the unique opportunity to meet professionals working for the San Diego Zoo, Safari Park, and Institute for Conservation Research, learn about their jobs and then blog about their experience online. Follow their adventures here on the Zoo's website!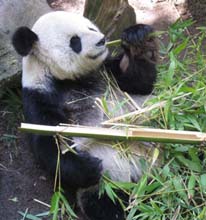 On Thursday, I went to the Zoo not only with the InternQuest program, but also with my biology class. The field trip was specifically to visit the Zoo's collection of insects, but we were eventually given a worksheet and allowed to drift about sightseeing. My group and I tried to visit the newest panda baby, Xiao Liwu, but were thwarted by time constraints and the dozens of panda fans waiting in Panda Canyon.

While we didn't get to see the purportedly adorable Mr. Wu, we certainly had a front-row view of the "panda-monium" that has helped bring the species back from extinction. People of all ages and backgrounds were eager for a peek at the famous black-and-white bear. On their way out, many of them stopped in the shop to purchase a plush panda toy, a T-shirt, or any of the dozens of other panda-themed items. My friend bought a panda-patterned lanyard, and we didn't even see the baby! We were surrounded by evidence that the conservation efforts focusing on giant pandas are going strong but, as Senior Research Technician Ms. Suzanne Hall told my fellow interns and I later that day, it wasn't always this way.
Fifteen to twenty years ago, the habitat fragmentation of the giant panda was such that the species was right on the precipice of extinction. Humans struggled to help the species. In the past, every time a pair of twins was born in captivity, one of them would die because the demands of caring for two cubs was just too much for the mother panda. "When I started working with pandas back in 1998," Ms. Hall said, "we didn't even know what we should do to change what we were already doing…." Obviously, things have changed. The public can now bask in the presence of the San Diego Zoo's sixth panda cub. But what, exactly, was it that changed? How did we go from the aforementioned precipice of extinction to crowds of panda fans coming to pay homage to the Zoo's "little gift," Xiao Liwu?
While pandas have always held mystery and magic for some, it seems to have started when China had the foresight to send its furry ambassadors around the world to different zoos. I am of the opinion that when the most innovative minds around the world can collaborate and share research and ideas, almost anything is possible. For example, in the event of the birth of twins, a mother panda will only care for one baby. Slowly, humans have learned to be excellent pseudo-mothers to the unlucky twin. Now, an incredible 95% of these twins survive. A sustainable captive population has been achieved, zoos around the world have had successful panda births, and scientists in China are working on reintroduction of individuals back into the wild.
Speaking of successful panda births, "even after six cubs, it's still amazing," Ms. Hall says of watching panda births at the Zoo. The first panda born at the Zoo, Hua Mei, was also the first to survive to adulthood in the United States. She has since gone on to have nine cubs of her own, including three sets of twins! Ms. Hall keenly remembers Hua Mei's birth. "The mood here was euphoric. Everybody was so excited to be a part of that process."
And this, the euphoria and excitement, is the driving factor behind "panda-monium"; it's just so amazing to be a part of the process of saving such an awesome animal! People can really connect with pandas. Again, in the words of the eloquent Ms. Hall: "You conserve what you love, and you love what you know." If you don't know about a species, if you never have the opportunity to form a connection with an animal, why would you care if they were to go extinct? People know about pandas thanks to outreach efforts from organizations like the Zoo, and they care. This gives me hope for the future.
So, do you care about pandas? All species, pandas included, need not only your heart but your dollar behind them. If you really care about these fantastic animals, start asking questions! Ask the manufacturer if that nice bamboo shelving comes from sustainably harvested sources. Ask your favorite food brands if the palm oil in them is produced without the destruction of habitat. Ask about everything, and use your questions and your money to support a future where your children and grandchildren and great grandchildren get to wait in line to visit these creatures, too. Not only will they thank you for it, but the children and grandchildren and great grandchildren of Xiao Liwu will thank you, too!
Cameron, Conservation Team
Week Three, Winter Session 2013
RELATED POSTS