Zoo InternQuest is a seven-week career exploration program for San Diego County high school juniors and seniors.  Students have the unique opportunity to meet professionals working for the San Diego Zoo, Safari Park, and Institute for Conservation Research, learn about jobs, and then blog about their experience online.  Follow their adventures here on the Zoo's website!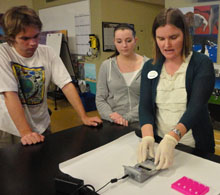 Did you know that California condors have deposits of heavy metals in their beaks that allow them to feel the earth's magnetic field? I didn't either, until I visited Mrs. Maggie Reinbold, the Conservation Program and Lab Manager for the Conservation Education Division at the San Diego Zoo Institute for Conservation Research. In addition to being passionate about genetics, she knows all about condors and the incredible program that brought them back from the brink of extinction. Last week, she walked us through the ins and outs of the conservation history of the California condor and the remarkable science that saved them. She also told us about her own path to the Beckman Center, and how she managed to find a career that combines her two passions: education and science.
For all intents and purposes, Mrs. Reinbold is a native San Diegan: she grew up here, went to school here, and fell in love with the intricacies of DNA here. As an undergraduate, she studied zoology at San Diego State University (SDSU), and went on to study evolutionary biology as a graduate student. Though she is a self-described "nerd" for all things related to animals and genetics, she was also very drawn to education.
She worked as a hands-on science teacher in a local school setting, but found the rigid structure of the state standards too limiting. She experimented with different forms of education as a museum guide at the San Diego Natural History Museum, and for the PISCES Project, an SDSU initiative designed to create partnerships between scientists and science teachers. Over time, Mrs. Reinbold found herself drawn specifically to informal, hands-on science education.
In 2005, she took a summer job in the Genetics Division of the San Diego Zoo Institute for Conservation Research. From there, she was tasked to help create a whole new division: Conservation Education! She had been looking for a way to combine her interests, and this new division offered her the perfect opportunity. Mrs. Reinbold accepted the offer enthusiastically, but didn't quite know what she was getting into. "When they said, 'Would you like to see your lab?'" she remembered, laughing, "my response was, 'I have a lab?!' I had no idea." Over the last seven years, Mrs. Reinbold has built a program that, in her words, is all about "engaging members of the community in a hands-on, accessible way."
The Conservation Education Division reaches far beyond the Beckman Center. They run in situ conservation programs all over the world, from Peru to Borneo. Back in San Diego, they make schools and community events a priority. In fact, my fellow interns and I arrived to visit right on the heels of a large school group from Carson, California. As we discovered, visitors to the lab will leave knowing all about condors and the efforts to save them, not to mention the amazing DNA analysis required for their breeding program. Not only has Mrs. Maggie Reinbold created a program that has touched countless lives, she has found a career for herself that combined two of her strongest interests.
I found her story personally inspiring because I often wonder how on earth I will be able to choose form all my interests. I've been approaching my future with the mindset that I will have to pick between my interests, but maybe I can find a way to not pick and choose, but combine. If her combination of education with genetics resulted in something as awesome as the Division of Conservation Education at the San Diego Zoo, then what might I be able to create by combining my own interests? For that matter, what might you be able to create?
Cameron, Careers Team
Winter Session, Week One

RELATED POSTS