Zoo InternQuest is a seven-week career exploration program for San Diego County high school juniors and seniors. Students have the unique opportunity to meet professionals working for the San Diego Zoo, Safari Park, and the Institute for Conservation Research, learn about their jobs, and then blog about their experience online. Follow their adventures here on the Zoo's website!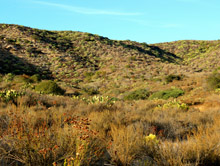 If you live in Southern California, chances are you live in or near a habitat known as the Coastal Sage Scrub. A Mediterranean habitat, it is characterized by a semi-arid climate and a widespread presence of the coastal sagebrush (Artemisia californica), a shrub that grows from four to six feet tall. However, this habitat is under attack. Due to expansion of human housing and infrastructure, only 10% of the original habitat remains in place. We clearly must take immediate action to protect this unique and precious habitat.
One of the most precious creatures living in this threatened habitat is the Coastal cactus wren (Campylorhynchus brunneicapillus couesi). When we met with Colleen Wisinski, Senior Research Technician for the Applied Animal Ecology and Applied Plant Ecology Divisions of the San Diego Institute for Conservation Research, she told us about her studies of this unieque bird, and how she is working to help restore its population. Adjacent the San Diego Safari Park, this is an 800 acre Biodiversity Preserve, the vast majority of which is characterized as coastal sage scrub habitat. Of those 800 acres, 38 are now considered suitable for Coastal cactus wren nesting. The cactus wren needs large patches of cactus to survive, as it protects itself in nests only made in the crevices of these spiny plants.
The conflict for this bird lies in the fact that it has been brought under threat by a high degree of habitat fragmentation. Although there are a good number of areas in Southern California that have suitable amounts of cactus, they exist in small patches are divided by as much as 50 miles of developed land. Take the Safari Park's case, for example: 38 acres of suitable habitat is clumped together, making for a population of about 50 birds. Then, less than 20 miles away at Lake Hodges, another protected area contains a few dozen acres of suitable cactus habitat, but so far the Lake Hodges habitat has gone unoccupied. This is because between the Safari Park and Lake Hodges lie hundreds of residential homes, Highway 78, and Interstate 15. The cactus wren does not like to move through these urbanized areas, and so it gets trapped on these tiny islands of cactus, and its population shrinks due to the genetic pool becoming less and less diverse.
So, wherever you are living, it is important that you are aware of the world outside your backyard. You may be occupying an area that represents an extremely rare habitat for a unique animal and ecosystem. If you are so inclined, have you backyard registered as a safe habitat for native animals. Volunteer at a local nature conservancy or organization. Not only do these volunteer-based organizations really need the help, but from my experience, work with these groups is extremely gratifying and spirit-lifting. If enough people do this, then this will create stop off points between larger tracts of habitat, especially for birds, allowing their populations to be better connected. Every bird is worth the fight, and if we don't start now, it will only become more difficult to save these precious creatures.
Cam, Real World Team

Week Two, Winter Session 2013
RELATED POSTS