Zoo InternQuest is a seven-week career exploration program for San Diego County high school juniors and seniors. Students have the unique opportunity to meet professionals working for the San Diego Zoo, Safari Park, and the Institute for Conservation Research, learn about their jobs, and then blog about their experience online. Follow their adventures here on the Zoo's website!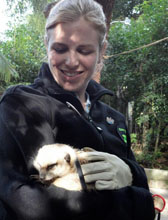 Today, interns had the pleasure of going on a tour with Ms. Kimberly Carroll, Zoo Educator, who has worked at the San Diego Zoo for over four years. After majoring in Zoology at the University of California at Santa Barbara, Ms. Carroll went on to work at an outdoor camp on Catalina Island and two other zoos before landing her position as an Educator at the San Diego Zoo. Ms. Carroll has diverse background and an enthusiastic attitude, which made our tour very not only informative but super enjoyable.
As an Educator, Ms. Carroll works with a variety of Animal Ambassadors which are special animals specifically chosen and trained to interact with the public for educational purposes. In the Children's Zoo, we got the chance to see Ms. Carroll complete an actual training step with her supervisor Mrs. Stephanie Alexander. This training step is the act of allowing the public to touch meerkats Animal Ambassadors Hakuna and Mattata. When being trained on Animal Ambassadors, educators much go through very specific training steps before they can be cleared to use the animal. After getting the siblings Hakuna and Mattata out of their exhibit, Ms. Carroll and Mrs. Alexander, put the two meerkats in harnesses, and took them to the CZ VIP area. Mrs. Alexander demonstrated to Ms. Carroll the proper way to safely allow people to touch meerkats. As Ms. Carroll came around to each of the interns and we got to touch Hakuna's back, which felt like a bristly, thick haired dog's back.
Ms. Carroll has had the opportunity to work with a wide variety of animals for educational purposes. She has worked with porcupines, horses, chinchillas, sugar gliders and kookaburras, to name a few. She is also working with an African grey parrot named Kizzy to perform vocalization on command. Parrots have a knack for mimicry so Ms. Carroll has taught Kizzy to associate certain sounds such as a whistle or the world "hello" with a hand motion and vocalization. Working with Animal Ambassadors allows Ms. Carroll the opportunity to visit elementary schools during Outreach Programs where it may be the first time kids have actually seen a particular animal. She has taken birds, armadillos and other smaller animals in the hope that children will feel a spark of inspiration to care about the natural world.
During our tour with Ms. Carroll, we stopped at Panda Trek and got to meet another type of educator, Panda Narrator, Ms. Alyssa Medeiros. As a Panda Narrator, Ms. Mederios, shares panda facts with Zoo guests and the dangers pandas face in the wild. Ms. Medeiros is around the pandas often and has gotten to know their personalities and behaviors quite well. Part of her job is to report to the Panda Researchers if she observes changes in their mood, any new behaviors, or sudden changes in their daily routine. These observations could possibly indicate to Researches if the pandas are ready to breed or if they may need any medical attention.
It was a great opportunity to get a glimpse into the jobs of Ms. Carroll and Ms. Medeiros. Both Ms. Carroll and Ms. Medeiros have great passion for animals and education, which makes them both really effective and inspiring educators. Hopefully, more enthusiastic youth will enter the field of education, and help teach those around them about the importance of a respect for nature and a respect for the world around us, just like Ms. Carroll and Ms. Medeiros do every day.
Cam, Careers Team
Week One, Winter Session 2013
RELATED POSTS