Zoo InternQuest is a seven-week career exploration program for San Diego County high school juniors and seniors. Students have the unique opportunity to meet professionals working for the San Diego Zoo, Safari Park, and Institute for Conservation Research, learn about their jobs, and then blog about their experience online.  Follow their adventures here on the Zoo's website!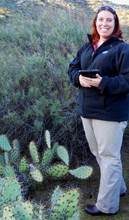 There are many different career opportunities available to those who have a passion for conservation. Senior Research Technician in Applied Animal Ecology and Applied Plant Ecology, Colleen Wisinski, has one such career. In Ms. Wisinski's career, she assists in many hands on restoration and rehabilitation projects. Currently Ms. Wisinski is working on the cactus wren restoration project, which includes planting new cacti in regions near the Safari Park as well as tagging and observing the behaviors of local cactus wrens. Apart from the cactus wren restoration project, Ms. Wisinski is also working on a burrowing owl restoration project.
Ms. Wisinski has always wanted to work with animals, in high school she wanted to be a wildlife veterinarian. After graduating with a Bachelors degree in biology and Spanish from the University of Wisconsin, Ms. Wisinski went on to get a Masters degree in fish and wildlife management at Montana State University. With these degrees under her belt, Ms. Wisinski took her passion for wildlife conservation out into the field by assisting with wildlife rehabilitation twice in Wisconsin, tracking and research of sage-grouse and chronic wasting disease research in Montana, wildlife/habitat research in Argentina, as well as whooping crane reintroduction in Wisconsin and Florida.
All of Ms. Wisinski's experience and credentials have helped prepare her for the cactus wren restoration project at the Safari Park. The cactus wren is a type of wren, which builds its nest in cacti located in coastal sage scrub habitat. Unlike most birds that only nest seasonally, the cactus wren nests year round. Located adjacent to the Safari Park is the largest patch of coastal sage scrub habitat in the county, having approximately 800 acres. The cactus wrens' natural habitat has been depleted due to rapid urbanization. The Witch Creek Fire in 2007 decimated much of the area, which also contributed to their habitat loss. There is now only ten percent of the costal sage scrub habitat that previously existed. Non-native and invasive plant species are also more present making the area more susceptible to fires.
With much of the cactus wren habitat destroyed, it was up to Ms. Wisinski, and people like her, to begin working to restore the cactus wrens' habitat. The efforts were entirely grant funded by organizations such as SANDAG (San Diego Area Association of Governments) and consisted of planting cacti in a multitude of different ways to find out which method works best. In addition to different planting methods, Ms. Wisinski and her colleagues would put cages made of chicken wire and zip ties over the cactus to prevent them from being eaten by rats and deer, which would detract from their overall growth. For the past three years, Ms. Wisinski, other workers on the project, and volunteers have been planting cacti, covering about fifteen acres a year. Although much work has been done it takes time to see its effects since a newly planted cactus can take five years to reach the state needed for the cactus wren to nest in it.
The amazing careers that await someone in the field of conservation are nearly endless and infinitely rewarding. Whether you want to help a species locally in your backyard, or travel halfway around the world, the opportunity is present. All you need to do is work towards it and put forth your best effort like Ms. Wisinski.
Marcel, Careers Team
Week Two, Winter Session 2013
RELATED POSTS