Zoo InternQuest is a seven-week career exploration program for San Diego County high school juniors and seniors. Students have the unique opportunity to meet professionals working for the San Diego Zoo, Safari Park, and the Institute for Conservation Research, learn about their jobs, and then blog about their experience online. Follow their adventures here on the Zoo's website!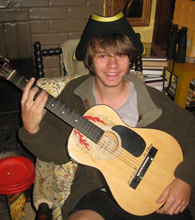 My love for nature has been the sole constant in my life. One of the earliest memories that I can recall clearly is the first time I stepped out of the car at Huntington Lake, California, a small lake that has been a gathering place for my family for generations. I was awestruck by the massive pine trees, the large body of water, and the ever-blue sky. Most of all, was the overwhelming peace felt while I was wandering through the wild, without the constant freeway buzz that I had grown so familiar with. To experience such pure serenity and happiness at a young age drove me to protect such places like this. I had always had a natural attraction to animals, so plans for my future seemed to fall into place easily at a young age. By the time my second cousin, Glenn Gerber, came back from his first project with the San Diego Institute for Conservation Research (previously known as CRES), working to protect Rock Iguanas in the Turks and Caicos Islands, I knew what I would do: become a field biologist.
This is what drew me to the InternQuest program. Although I dream of becoming a field biologist, my experiences with true conservation work have been few and far between. I want to speak with people who have worked in this field directly, and make sure this truly is my future path. Not only that, but I could not ignore the opportunity to spend my afternoons writing and exploring the San Diego Zoo and Safari Park.
Aside from my interest in conservation, I am a competitive fencer, avid bicyclist and musician. I lead my school's Ecological Conservation Organization on projects throughout North County, including invasive plant removal at The Batiquitos Lagoon Foundation, planting native plants with the Cottonwood Creek Conservancy, and designing a Native Ant Monitoring project alongside the San Elijo Lagoon Conservancy. I hope that this club can help others become inspired by nature and find connections with local organizations to get hands-on experience in the field. In the end, my main goal with all of this is to leave a world behind where children can be as inspired as I was the first time that I experienced the wonder of the natural world. I hope that the InternQuest program can bring me insight into the world of conservation and the work done at the Zoo. Hopefully, it will reach beyond that, and the blogs that I create can help others understand what environmentalism, protection and conservation is truly all about. 
Cam
Winter Session 2013
RELATED POSTS