Zoo InternQuest is a seven-week career exploration program for San Diego County high school juniors and seniors. Students have the unique opportunity to meet professionals working for the San Diego Zoo, Safari Park, and Institute for Conservation Research, learn about their jobs and then blog about their experience online. Follow their adventures here on the Zoo's website!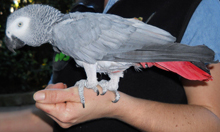 Ms. Carroll led our group through various parts of the Zoo and explained different aspects of her job. An important part of Ms. Carroll's job is to inform the public about the challenges animals are faced with in the wild (such as habitat loss) and what they can do to help. One method of increasing awareness is through the use of outreach programs and Animal Ambassadors. The Animal Ambassador program is a great way to educate the public because Animal Ambassadors can be taken offsite to different locations. One Ambassador that Ms. Carroll works with is Kizzy, an African gray parrot.
One place Kizzy has been to is the Kaiser Children's Hospital, where she performed different noises and actions on cue. By bringing animals to people who cannot visit the Zoo, Educators like Ms. Carroll are able to inform the public that without our help, endangered animals could be extinct in ten to fifteen years. Educators also give conservation tips, such as how to conserve water, recycle, and use alternative energy. There are many Zoo programs that people of all ages can experience, such as Watershed Wizards, Recycle Rockstars, and Growing Up Green.
Of course there are also many opportunities to learn from the Educators at the Zoo itself. Ms. Carroll introduced us to one of her colleagues, Alyssa Medeiros. Ms. Medeiros also works in the Education Department and is a Panda Narrator. There are many facets to Ms. Medieros's job, one of which is educating spectators about the pandas' behavior, reproductive success, and threats. A major threat to pandas is habitat loss. Bamboo is a very desirable material and, as a result of excessive bamboo harvesting, many pandas are losing their homes. Therefore it is very important for us to check that the bamboo we buy is not from a panda habitat.
Another opportunity to learn from Educators at the Zoo is through private tours. Inside Look and EVE (Exclusive VIP Experience) tours are behind the scene encounters that small groups can go on to experience a more intimate, close-up look at animals. On Ms. Carroll's tours she takes her groups to see different animal exhibits, such as the pandas, giraffes, and elephants. One of her goals is to show people just how special animals are. By pulling at their heartstrings, Ms. Carroll makes people understand the importance of protecting animals and their natural habitats. Besides learning about the animals, visitors can also feed and pet some of them, too. For example, Ms. Carroll works with two meerkats named Hakuna and Matata, who can be brought out of their enclosure for Inside Look tours. Ms. Carroll gives visitors an up-close look at Hakuna and Matata, informing them about their behaviors, habitat, and even letting visitors pet them. This personal experience is a great way for Educators to leave guests with a love for animals.
Educators like Ms. Carroll and Ms. Medeiros work hard to convey their knowledge and love of animals to others. Their efforts carry out the Zoo's mission of connecting people to wildlife conservation by informing guests and spreading the love of animals. By accomplishing these goals, the Zoo hopes to spur people to action. There are so many simple things everybody can do, such as taking shorter showers or using reusable water bottles. Educators can provide us with the information, but in the end it is up to all of us to make a difference.
Jade, Conservation Team
Week One, Winter Session 2013
RELATED POSTS