Zoo InternQuest is a seven-week career exploration program for San Diego County high school juniors and seniors. Students have the unique opportunity to meet professionals working for the San Diego Zoo, Safari Park, and Institute for Conservation Research, learn about their jobs, and then blog about their experience online. Follow their adventures here on the Zoo's website!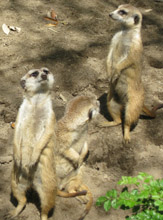 This week, we were fortunate to meet Ms. Kimberly Carroll who works within the Education Department at the San Diego Zoo. She led us on a tour around the Zoo in which she detailed many exciting facts about her job, which differs on a daily basis. It was an experience of a lifetime but one that Ms. Carroll performs every day! Her main goal is to connect people with wildlife so that they will be more likely to support conservations efforts for endangered species.
On our first leg of the tour, we walked to the meerkat exhibit to meet Ms. Carroll's supervisor, Ms. Stephanie Alexander, before they headed behind the exhibit to leash up two meerkats (a brother and sister named Hakuna and Matata). We followed behind the scenes to a shade-covered area with benches and what looked to be some sort of small-animal-sized jungle gym. Ms. Alexander and Ms. Carroll met us, with meerkats in hand, to demonstrate the training process for Educators who work with Animal Ambassadors. Educators often give animal presentations throughout the Zoo, educating the public with up-close experiences they will, hopefully, never forget. On this occasion, Ms. Carroll was gaining certification in her next step of training with Hakuna. First, Stephanie demonstrated how to hold the meerkat so that the guests may be able to pet the animal. After Ms. Alexander gave Ms. Carroll clearance, we were the first group to pet a meerkat under Ms. Carroll's supervision! If you've never pet a meerkat, their fur is not quite soft, but not too wiry. It is just right.
Once the meerkats were unleashed and returned to their enclosure, we walked to the small theatre within the Children's Zoo to meet an Animal Ambassador named Kizzy. Kizzy is an African grey parrot who is showcased at many different places in San Diego, such as elementary schools and the Kaiser Hospital Pediatric ward, to help educate the public on conservation awareness. Ms. Carroll showed off many of Kizzy's talents for us, such as stretching out her wings and clucking like a chicken. Before Ms. Carroll returned Kizzy backstage, she gave us the same talk that she gives the public- noting that without human help, endangered species could become extinct in ten to fifteen years.
We trekked across the main entrance of the Zoo and found a light green eight-passenger cart awaiting our arrival. We hopped in for a tour around the Zoo. Kimberly detailed that our experience from here on out would be much like that of an Inside Look Tour (for details visit: http://www.sandiegozoo.org/zoo/special/inside_look_tour). We drove past a pair of peacocks perching atop a photo booth, zooming past the tiger and hippo exhibits before stopping the cart at the panda research station. We met Ms. Alyssa Medeiros, a Panda Narrator, who educates the public with fun facts about pandas- their daily habits and quirks- and answers any questions a visitor may have. Alyssa also acts as a second pair of eyes for the pandas' keepers, tracking the number of scent marks left during mating season. Her job allows her to spend most of the day observing the pandas, whereas the keepers don't have that luxury, for they are busy cleaning and preparing the pandas' diet.
Continuing on, Ms. Carroll presented us with a would-you-rather question that received a unanimous vote to feed a camel before our day came to a close. His named was Mongo (short for Mongolia, where Bactrian camels are found). He was dark brown with two humps, and enjoyed our gifts of celery by quickly gobbling chunks up with his slobbery, whiskery lips, his big brown eyes always trained on you.
At the end of the afternoon, we drove over to the giraffe exhibit, hoping to get a chance to feed them as well. We walked through a tall wooden gate next to the enclosure and headed to the back of the exhibit where Nicky, a ten-year-old female Masai giraffe, strode over, interested by our appearance. Ms. Carroll brought over a plastic tub of lettuce and we each held out leaf after leaf to have Nicky's long, dark tongue come down to snatch it up.
We headed for the Zoo's exit to wrap up the day. We all came to a general consensus that today was so much fun, that Ms. Carroll has an awesome job, and that we couldn't wait for the adventures to follow during the next six weeks. The best part is, taking a tour of the Zoo helps endangered species. All proceeds help to further conservation efforts, including projects for animals around the world.
Carly Jo, Real World Team
Week One, Winter Session 2013
RELATED POSTS