Zoo InternQuest is a seven-week career exploration program for San Diego County high school juniors and seniors. Students have the unique opportunity to meet professionals working for the San Diego Zoo, Safari Park, and Institute for Conservation Research, learn about their jobs, and then blog about their experience online. Follow their adventures here on the Zoo's website!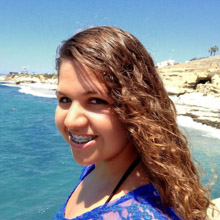 Being associated with the Zoo has always been a dream of mine and it is finally coming true. My fascination with animals started at a young age and has grown continuously since then. I have had multiple pets over the years including parakeets, turtles, tortoises, hamsters, and dozens of fish. At one point, I had over one hundred hamsters! Multiple cages were set up around my 10 year old room and dozens of toys were sprawled across the floor. I loved those hamsters more than anything, but had to give them away when I moved. To this day, I would still love to have another hamster but most pets, including hamsters, are not allowed in dorm rooms, and I am moving to college next year. Unfortunately, I have never been able to have a cat or dog either.This has only spurred my determination to become even more involved with animals in whatever way I can.
During my senior year of high school, I was faced with the same frustrating challenge that most people face – having to pick a college and major. I always thought I wanted to go to medical school and become a veterinarian. However, lately I have become more aware of the different careers that involve animals and have decided to alter my goals. I realized that being a vet has crossed the mind of nearly every little kid that comes in contact with an animal at one point or another. Therefore, I have switched my focus to a career that is more specialized in daily animal care rather than medicaly-oriented. Thankfully, with the influences around me, I have realized I would like to pursue a major in biology and a minor in zoology. My friends and family have helped me in my decisions, but ultimately, my desire to work with animals is what made up my mind.Along with animals and the Zoo, anything Disney-related is a huge part of my life. I go to Disneyland as often as possible and also find myself in movie marathons featuring movies such as The Little Mermaid and Sleeping Beauty.  Whenever I can't go to Disneyland, I like to paddle board and kayak with my friends in the Bay or scrapbook. I love taking pictures and usually have my camera with me no matter where I am. I look forward to capturing the beautiful animals at the Zoo through my camera lens and I hope you enjoy reading about them as I continue my experience through Zoo InterQuest.

Victoria
Winter Session 2013

RELATED POSTS