Zoo InternQuest is a seven-week career exploration program for San Diego County high school juniors and seniors. Students have the unique opportunity to meet professionals working for the San Diego Zoo, Safari Park, and Institute for Conservation Research, learn about their jobs, and then blog about their experience online. Follow their adventures here on the Zoo's website!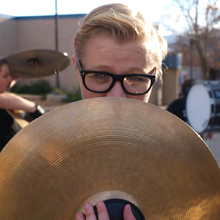 After career-hopping from paleontologist to CEO of Disneyland, I decided that I wanted a career that promised new and exciting opportunities daily. From that point, I struggled to find my passion for weeks on end. How do you even know what you're passionate about? How does one define passion? Then I realized it was in front of me the whole time.
I've always been exposed to animals. My home was always filled with not only my pets, but also those of all my friends and family. My elementary school often scheduled assemblies that presented exotics such as hedgehogs, tarantulas, and albino Burmese pythons. I took horse-riding lessons and showcased them at competitions, becoming quickly attached to the three horses I spent all of my free time with. I volunteer at the San Diego Humane Society, grooming and socializing cats and small pets (such as rabbits, rats, and guinea pigs). I've had a Zoo membership since I was 10, starting as a birthday gift from my brother and sister-in-law to compliment their's. My passion is animals.
The final challenge has led me to Zoo InternQuest. What career involves animals and differs day to day? Once I discovered my dream career belongs within the zoo, everything fell into place. I applied and was accepted to Zoo InternQuest, and then applied (and was accepted) to San Diego State University's pre-biology (with an emphasis on zoology) major.
Beyond preparing for college, I am an avid reader/writer, a lover of all things Disney, a proud cat owner, and a cymbal player in my high school's drumline/trumpet player in wind ensemble. Adding to this list, I am now an intern at the Zoo, and am ecstatic to begin my trek into the world of zoology.
Carly Jo
Winter Session 2013
RELATED POSTS